Airsoft guns aren't cheap. If you are lucky enough to own one, then you will probably want to do your best to keep it in perfect condition. Lets be honest, the last thin you want is to have an expensive airsoft replica ruined because you didn't properly store it.
So protect your airsoft gun from damage and other factors, we've mad a list of the 3 best ways to store your airsoft gun. We are positive that at least one of them will seem appealing to you!
Where Is the Best Place to Store an Airsoft Gun?
Airsoft guns should always be stored in dry locations. Remember, airsoft guns tend to have metal components inside of them. If the air is too humid then they will end up rusting. Some of the best places to store your airsoft guns are gun racks, gun cases, and even toolboxes, to name a few.
If you are going to be storing your airsoft gun for long periods of time, make sure that you check on it regularly. GIve it a clean down or oil it up a little bit. Make sure that it is in perfect working order and you are keeping the rust at bay.
Remember, there are some places throughout the United States that may have strict controls about how you store your airsoft gun. Bear these in mind when you are thinking of storage locations e.g. certain states will require you to store them in the same way as a real weapon. This means that you may need a locked gun cabinet.
Gun Racks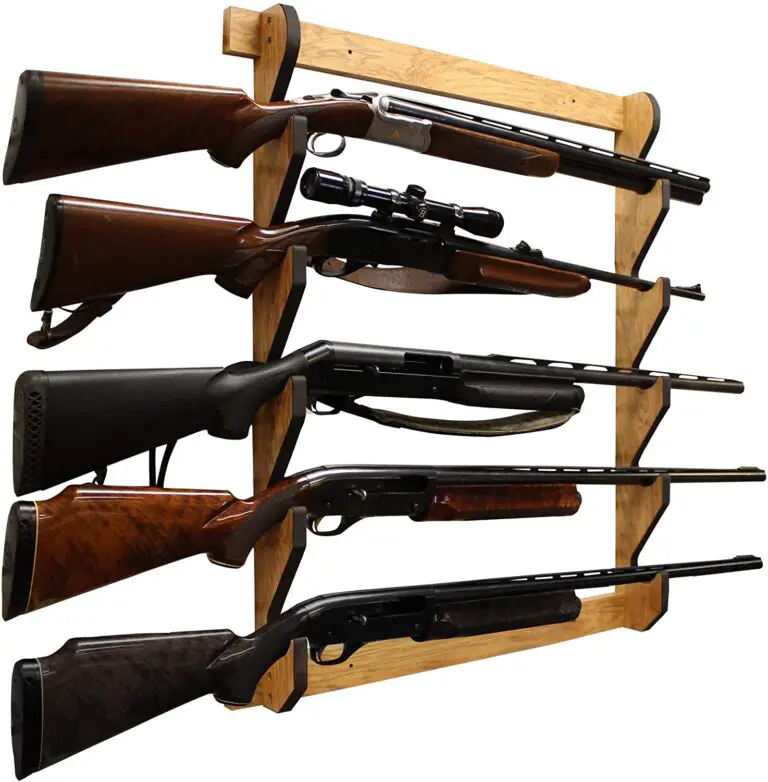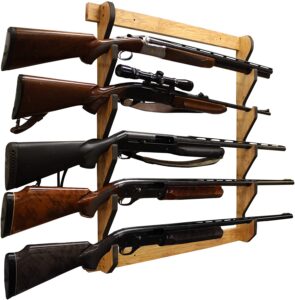 There are many people that will see your airsoft gun as a toy. We are 100% certain that you don't, though. You are going to see it as something so incredibly beautiful that you just want to show it off, right? Luckily for you, one of the best ways to store your airsoft gun will be exactly the same as if you had a real gun on display.
If you head to your local gun store, then the chances are pretty high that they will have a gun rack that will fit your airsoft gun. Your airsoft gun is going to be roughly the same size as a real gun, after all. If you can't find one, then there will be plenty of websites online with some awesome gun racks for sale.
We know that there are people out there that will make their own gun racks. This is cool and all. However, it can be incredibly tough to do. Most of the tutorials we have seen online often have people making gun racks out of pegboard, and that looks rather shabby. It is best to spend a few extra dollars and buy a proper one. This means you will be able to really appreciate the sexiness of your gun.
Gun Cases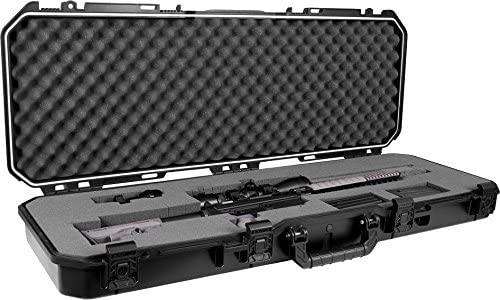 If you are heading to an airsoft event, don't just carry your airsoft gun out in the open. Not only is it illegal in some places, but it isn't going to be too good for the gun.
While there are plenty of proper airsoft gun cases on the market, if you want something truly brilliant, we recommend that you pick up a case made for a real gun. They tend to offer a lot more protection, and they have a lot more space inside. Although, you should probably note that cases for real guns are going to be a whole lot more expensive.
You can pick up a hard or soft case for your airsoft gun (depending on the budget that you have). Many of them will allow you to store your accessories in the same case. This means that you have everything 'ready to go' should you have an airsoft match coming up. Nothing better than just grabbing a bag and leaving. We have seen some people that do not have an airsoft gun case, and it takes them ages to gather up their weapons, pellets, gas, etc.
Remember, the purpose of a gun case is to help ensure that your airsoft gun stays in pristine condition. If you aren't purchasing the best case that you can afford, then you may as well not bother buying an airsoft gun case. Of course, make sure that you do your research to know which one is going to be right for you. There are dozens upon dozens of options out there.
If you can, always try to ensure that you purchase a hard case. Soft cases will provide some protection, but your gun can still get damaged in one. Only go for a softer case if you have a cheaper airsoft gun, or if you want a bit of protection albeit while sticking to a budget.
Toolboxes
This is a bit of a unique suggestion but, if you are really limited in terms of budget, then you could probably pick up a decent toolbox for $20 or so.
Obviously, a toolbox isn't really designed for airsoft guns. This means that your airsoft gun will be knocking around a little bit inside. However, at least you are going to have some protection for it, which is better than nothing.
Toolboxes will also have a major advantage. This is the fact that toolboxes have often been designed for small tools and accessories. This means that there will be plenty of storage compartments where you can store your airsoft bits and pieces. You may be able to have a separate slot for your cleaning kit, etc. Not too bad for something that is so cheap, right?
Toolboxes may not be a great choice if you have a larger airsoft gun. However, if you have a few pistols, or maybe a smaller rifle, they do make a great budget option.
How Can You Store Airsoft Gun Accessories?
Honestly, the toolbox idea also works if you are planning on storing airsoft accessories. Although, a smaller toolbox will be more than enough.
Small toolboxes will have compartments where you can store your gas, pellets, cleaning kit, spare parts, and maybe some of your airsoft grenades. They also ensure that you will have everything in one easy-to-reach place.
We know that there are some proper airsoft gun accessory carrying cases out there. However, they can be quite expensive. So, why not save a little bit of money and buy something just as good? It means that you will have more money left over to buy actual quality accessories!
The 3 Best Ways To Store Your Airsoft Gun Final Thoughts
Finding places to store your airsoft gun really isn't that difficult. As long as you can find a secure place with low enough humidity you should be in good shape. My favorite place to store my airsoft guns in my gun safe which is located in my bedroom closet (please don't rob me).
I hope you were able to learn something from your 3 best ways to store your airsoft guns article. Where do you think is the best place to store your airsoft replica? Have you ever damaged an airsoft gun due to improper storage? Let us know in the comments below and feel free to checkout our latest airsoft product review here