There are literally hundreds of different airsoft BBs on the market today. Choosing the perfect one can be overwhelming and tedious work. How would you even know which airsoft BB to choose? Lets be honest, they all look exactly the same.
But one brand name of airsoft BB seems to stand out. The Elite Force Premium 0.25 Airsoft BBs is a premium airsoft ammo that many airsoft users love. 
Today you will learn why my and hundred or airsoft users love the Elite Force Premium 0.25G Airsoft BB and what they offer. When it comes to an airsoft BB, this product has performance that makes it stand out against the competition. 
Elite Force Premium 0.25g Airsoft BBs review
In A Rush?
If you're in a rush feel free to use the link below to easily and quickly find the Elite Force Premium 0.25G Airsoft BBs on Amazon. No worries, we only pick the best products for you.
Check Price Here – Elite Force Premium 0.25g Airsoft BBs
Top Selling Airsoft BBs On Amazon
Elite Force Premium 0.25G Airsoft BBs Review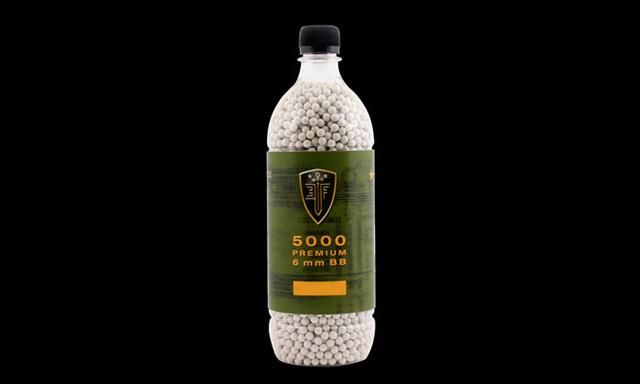 The Elite Force Premium Airsoft BBs are specifically designed for airsoft players who are looking for a high end BB.  Theses BBs are made of the highest quality materials available on the market today and are designed for the serious airsoft player. 
What separates these airsoft BBs from the competition may not be obvious at first glance. So to help explain what makes these BBs so special, I have broken it down for you. 
Accuracy is very important in a game of airsoft. The Elite Force Premium Airsoft BBs have been shown to greatly improve the accuracy of almost any airsoft gun. One of the reasons it has such great accuracy is the 0.25g BB weight. Being a heavier projectile, it will be way more accurate than that of  your standard 0.12b or even 0.20g BB. 
Furthermore these airsoft Bbs are polished smooth. Giving the BB an easier release from the airsoft barrel, thus keeping it on a more straight path. It's also almost a perfect circle with the company only allowing a 0.1 tolerance in perfection standards.
Elite Force has been around for a long time and there is not question that they're a very reputable airsoft company. So it's no wonder that the Elite Force Premium 0.25G Airsoft BBs are one of the best airsoft BBs that you can buy. 
Why is this quality so important? Well the last thing you want is a BB breaking inside your barrel. This can cause extensive damage to your airsoft gun, thus costing you a lot of money. You want a high quality BB and The Elite Force Premium BBs are a great option
When you buy cheap BBs, you get cheap materials and overall a crappy BB. As you just discussed, a low quality BB can break in your gun costing you a lot of money. So it's a good idea to spend the extra few bucks and purchase a higher quality airsoft BB
The Elite Force Premium .25g BBs are a little more expensive than your typical airsoft BB. However, it's worth the improved accuracy and having the peace of mind that you wont have a BB break in your airsoft replica. 
Who Is The Elite Force Premium .25g BBs Made For?
These High quality BBs are made for anyone who wants to improve the accuracy of their airsoft guns. I think you'll see the most improvement out of your airsoft snipers and AEG's. But there's a few things to keep in mind 
The Elite Force Premium 0.25G Airsoft BBs are great in almost any airsoft sniper rifle. Due to the heaviness and smoothness of the BB, you'll see an improvement in accuracy. You will also see your FPS dropping so you wont be hitting your target as hard, but I guarantee you'll miss your target way less often. 
If you want to see even more improvement of accuracy consider going with the 0.30g Elite Force BB. Keep in mind the drop in FPS for it might be a significant drop. 
A 0.25g BB in a standard AEG is 0.5g above what some manufactories recommend. So with that out of the way, if you use a 0.25g airsoft BB, you'll see an improvement in accuracy. I would make sure your airsoft gun is a higher quality gun. Anything over $150 will see benefits.   
Did You Know: Elite Force is an airsoft company that has been around for a long time and is known as one of the top airsoft brand names
Key Features of The Elite Force Premium .25g BBs
It's important to know some of the features of any airsoft product, including airsoft BBs. So here is a few features of the Elite Force Premium 0.52g airsoft BBs
Pros
Brand Name Product

BBs Will Improve The Accuracy Of Your Gun

Polished & Perfectly Round

Less Likely To Break In Your Gun

Made With High Quality Materials
Air airsoft BBs reusable?
In most situations airsoft Bbs are not reusable. If you would like to know more about this topic click here
What are airsoft bbs made of
A Non-biodegradable airsoft BBs are made from a plastic called acrylonitrile butadiene styrene or otherwise known as ABS Plastic
What airsoft bb weight is the best
This all depends on the type of airsoft gun you have. But 0.20g BB is the standard airsoft BB that might work well in your gun. If you want more accuracy you might benefit from a 0.25g BB. Try and stay way from anything thats 0.12g and BBs that are not seamless. 
Elite Force Premium 0.25g Airsoft BBs Final Thoughts
It's hard to find an airsoft BBs that has high quality than what the Elite Force Premium brand has to offer. They have a wide range of BB weights that go over 0.40g! 
When it comes to the Elite Force Premium 0.25g BBs, they do a great job at improve the accuracy of your airsoft gun. They have high quality standards in the factory and product a BB that is known to give players an edge on the battle field. At the end of the day that edge is what can make the difference between winning and losing. 
I really think any can greatly benefit from these airsoft BBs and I hope you're able to grab a few and test them out in your next airsoft match. 
Have you tried any Elite Force airsoft BB? Did you like them? Let us know in the comments below and feel free to checkout our latest articles