Most of us know how popular airsoft has become. It has created a massive following and is now more popular than paintball. The gameplay is much more fun, the equipment is a lot more practical , and the guns much more realistic. But that comes with a cost.
If you haven't noticed, airsoft guns are full 1:1 scale of real functional guns. And like real functions guns, they aren't cheap. Hardcore airsoft players can easily spend several hundred dollars on a AEG or Sniper style airsoft weapon. I have even seen some sell for thousands of dollars. If you're just starting out playing airsoft this can be really intimidating….essentially if you're on a budget.
To help you with this I have the top 15 cheap airsoft guns for beginners. This article will help you decide on which airsoft gun is the perfect fit for you based off of performance and price. Not everything I list is going to be dirt cheap. Simply put, if you're going to spend under $25 on an airsoft gun, you can expect it to be cheap and I simply will not recommend that. So please keep that in mind.
This list is cheap airsoft guns are suited for both causal play and woods play. Nothing on this list is going to be under $25 because I feel like anything under that price is going to be garbage. With that in mind, lets get to the top 12 cheap airsoft guns for beginners.
Best Cheap Airsoft AEGs
Double Eagle M83 Electric Airsoft Rifle


A full size replica of the famous M16 M4 Carbine rifle. This airsoft gun has a selector switch for full auto or semi-auto. Also comes equipped with adjustable electric red crosshair sight, adjustable laser aim module and tactical flashlight. A great gun to start off our top 15 cheap airsoft guns for beginners list.
Features
Magazine Capacity: 42 BBs
Velocity: Approx. 240 FPS
Caliber: 6mm Plastic Bullets or Paintballs
Power Type: Fully and Semi Auto Electric
1:1 Full Size Scale
Integrated R.I.S.
CE Certified
H&K 416 Full Auto AEG Airsoft Rifle


The H&K 416 AEG is a full sized full auto airsoft rifle. This battery powered airsoft gun is capable of shooting in full or semi auto mode. The H&K 416 features a full length quad rail, perfect for mounting a scope, red dot sight, a flashlight, laser, or tactical grip. The stock is fully adjustable to the desired shooters preference. The gun also features a flip up front and rear sights which are adjustable for windage. Whats also amazing is that the 416 is fully licensed by H&K, so you know you're getting the real deal here!
Features
Rapid Fire
300 FPS
Adjustable stock
250 Round Magazine
Full rail system
Official H&K trademarks
Battery and charger included
M82 Electric Airsoft SIG 552 Rifle AEG


The M82P Sig 552 is like the Swiss army knife of airsoft guns This airsoft weapon comes with a fore-grip, a red-dot and laser sight, a flashlight for lighting up those dark corners, and a mock barrel extension suppressor which fully completes the look. The folding stock allows you to tuck this gun in close, making it perfect for close quarters combat.
Features
Magazine Capacity: 36 BBs
Velocity: Approx. 240 FPS
Caliber: 6mm BBs 
Integrated R.I.S.
Fully and Semi Auto Electric
1:1 Full Size Scale
CE Certified
FN SCAR-L Electric Powered Airsoft Gun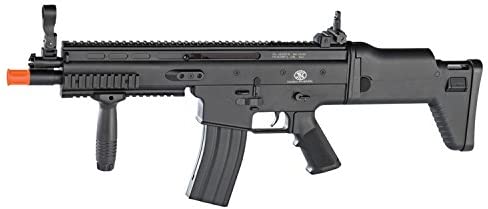 The FN scar-L AEG is a great cheap airsoft gun for a beginner with not a ton of cash. It's an cheaper gun, but don't let that fool you…this gun performs! This fully licensed and trademarked FN scar-L AEG comes equipped with a 2 in 1 foldable and Extendable stock, front foregrip, and flip up front and rear sights. Simply put, the FN Scar L AEG is an impressively accurate gun that deserves to be on our top 15 cheap airsoft guns list.
Features
POWERFUL ELECTRIC: 302 FPS with 6mm ammo
READY TO PLAY: Shoots 6mm ammo in full and semi-automatic. Includes 500 BBs
REPLICA: made with high strength ABS polymer for a realistic feel. Weighs 4lbs
EASY TO LOAD: Magazine holds 200 rounds
FEATURES: Folding/collapsible stock and flip-up front and rear sights. HOP-UP: creates a back-spin effect on ammo to provide longer shooting distance
Best Cheap Airsoft Pistols
Beretta 92FS Electric Airsoft Pistol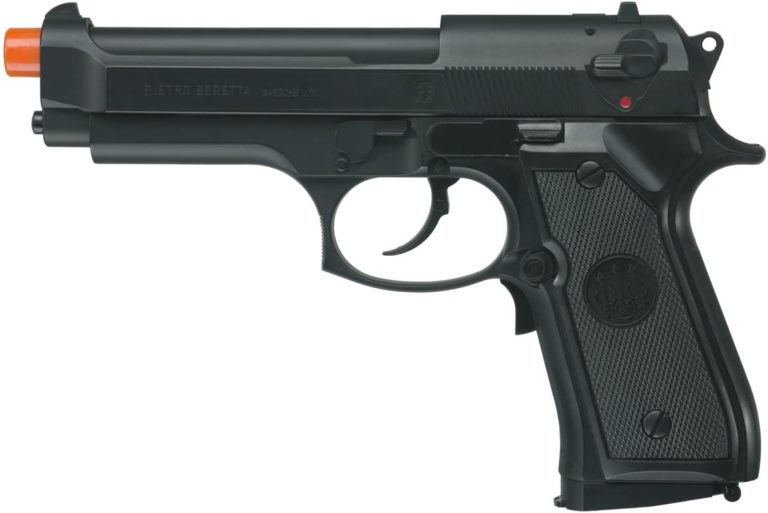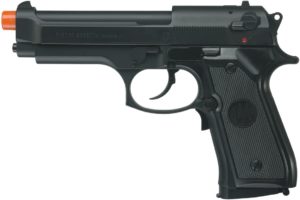 The Baretta. 92 FS airsoft pistol is an officially licensed replica of the real Beretta 92FS. It's not only lightweight but also has the same trademark engravings as the real 92FS it is based on. This airsoft pistol features electric semi-auto blowback firing, a 16 rd magazine, and an impressive 150 fps with 12g BBs. It fits most holsters and is a blast to use on the battlefield.
Features
Electric blowback
Semi-automatic firing
Metal inner barrel
Press-in safety
Authentic Beretta trademarks
Black handle grips
Combat Zone Enforcer Compact CO2 Airsoft Pistol by Umarex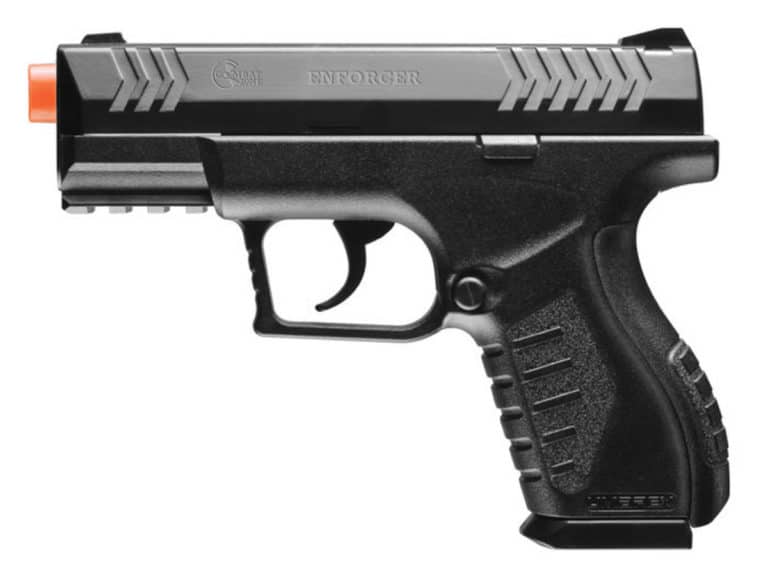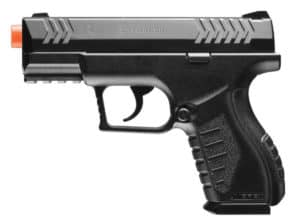 Introducing the Combat Zone Enforcer, a small and lightweight co2 powered airsoft pistol. It's compact size and light weight makes it easy to store in your gear and also makes it a great backup weapons for close quarters combat. It shoots at a hard 400 FPS and comes with a 15 round drop-free metal magazine. This is a semi-auto CO2 pistol. This means it will shoot as fast as you can pull the trigger (there is no cocking required). This is a solid choice and one of my favorite cheap airsoft pistols
Features
400 FPS
CO2 Powered
Takes 12 gram CO2 cartridges
Compact and lightweight
Fixed Sights
15 Round Drop-Free Mag
Textured grip
HK Heckler & Koch P30 6mm BB Pistol Airsoft Gun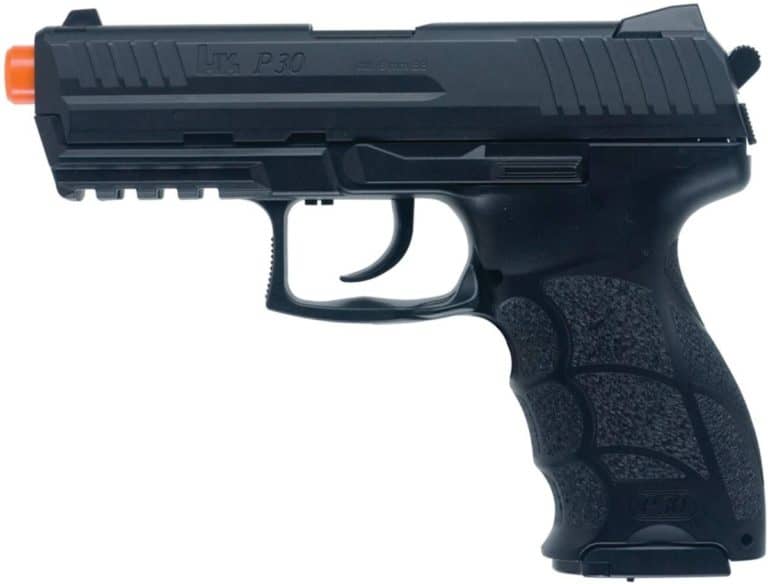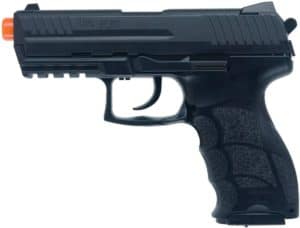 Shooting the HK P30 spring airsoft pistol by Umarex is a blast. It doesn't matter if you're plunking at targets or playing an airsoft match, the HK P30 will make it fun. The HK replica fires 6mm .12g airsoft BBs at 240 fps and has a solid metal slide for added realism and a built-in Hop-Up system to improve accuracy. Once you're out of ammo, eject the magazine with the firearm accurate mag release and fill it up back up again and again
Features
240 fps
Fires 6mm, .12g airsoft BBs
Built-in Hop-Up system
Fixed front and rear sights
15-round drop-out magazine
Accessory rail
Barrel length: 2.95 inches
Extended life trigger system
Authentic HK replica
A 400-count bottle of airsoft BBs is included

H&K USP CO2 Airsoft Pistol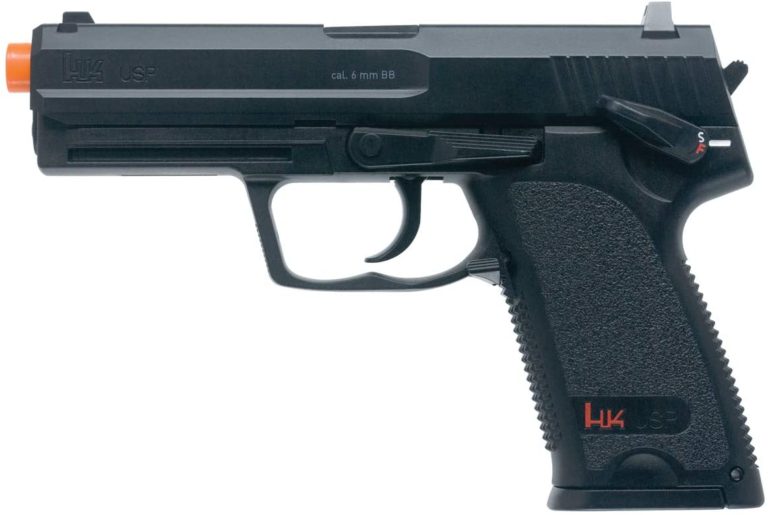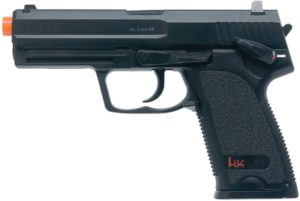 This fully licensed H&K USP CO2 airsoft pistol from Umarex is another great airsoft pistol I highly recommend. It features superior CO2 efficiency with a single CO2 cartridge lasting multiple reloads. It's range and accuracy are greatly improved with an adjustable hop-up not commonly found on many airsoft pistols. This 1:1 scale replica makes a high quality and affordable sidearm that compliments all game types.
Features
360 FPS with 0.20g BBs
Textured Grip
Fixed Hop Up Unit
Railed Lower Receiver
Two-Tone Tan lower receiver with a black slide
White Dot High Visibility Iron Sight
16 Round Drop Free CO2 Magazine with additional magazines available for sale from Airsoft Station
Officially licensed H&K Trademarks from Umarex
1 CO2 cartridge can last multiple magazine reloads
Best Cheap Airsoft Shotguns
M56A Double Eagle Multi-Shot Airsoft Shotgun


The Double Eagle M56A Multi-Shot Spring Shotgun is a replica of the infamous Tokyo Marui M3 Shotgun. It's fed by a replica shotgun shell that loads 3 BBs into 3 separate barrels with every action. This airsoft shotgun is a simple design and works just as a real shotgun would. But don't let it's simplicity fool you, there's a reason it's on our list.
Features
330 fps w/ 0.12g BBs
One non-ejecting shotgun shell included
Pistol Grip handle for easier control and comfort
41″ overall length
7 lbs gun net weight
Lancer Tactical Tri-Burst Short Barrel Airsoft Shotgun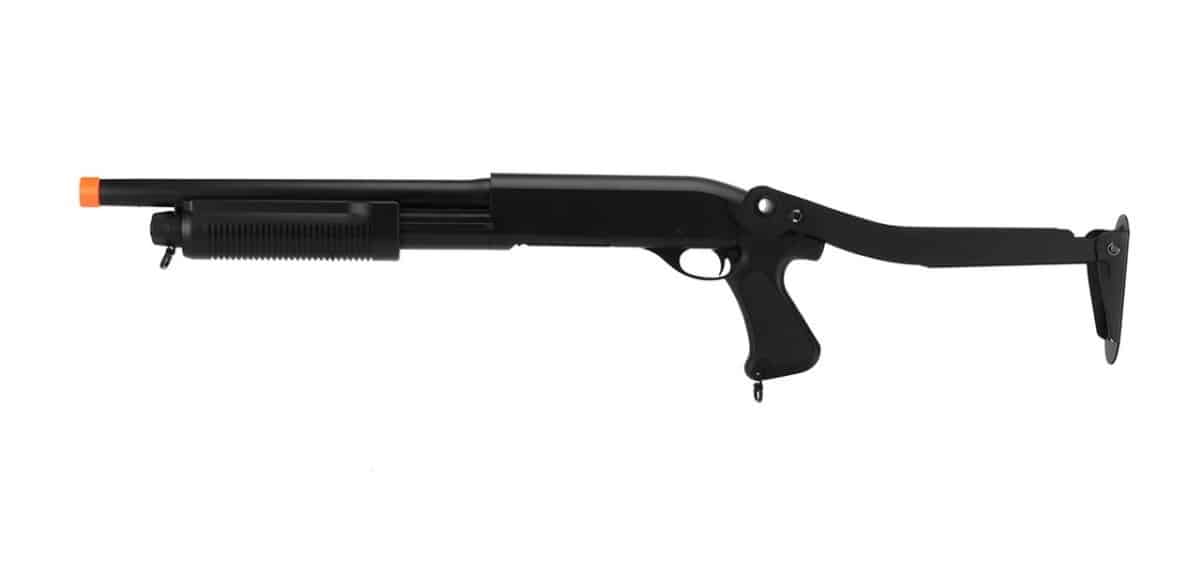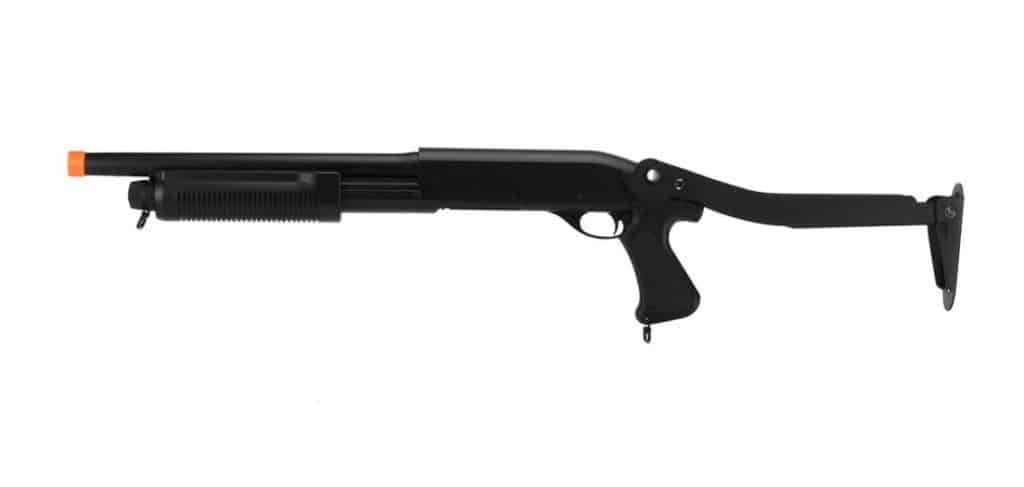 The new Tri-Burst Short Barrel pump action shotgun from Lancer Tactical is an ideal weapon for operating in close quarters battles. The accuracy and power from the Lancer Tactical can stand up to some of the top gas powered airsoft shotguns. The high-quality spring power source ensures you will never run out of a gas or Co2 combat. The specially designed triple inner barrel system simultaneously fires three rounds with each trigger pull. The rifle also comes with a real shell that hold 30 rounds so it looks and feels authentic in your hands. Constructed from a high grade polymer, ensures to limit excessive weight and reduce player fatigue while remaining durable. The side folding metal stock provides a sturdy surface for better gun control and can be folded against the rifle close quarters battle. The Lancer Tactical Shotgun is a fun and unique pump action shotgun that will surely be fun with players of all skill levels and play styles.
Features
300 FPS (0.20g BB)
Magazine: 30rds
Sturdy Polymer Body
Real Shell Type Magazine
Tri-Shot Spray w/ Each Trigger Pull
Short Barrel for Improved Maneuverability
Full Metal Folding Stock
Adjustable Front and Rear Sights
Front and Rear Sling Mounts
Safe / Single Action
Double Eagle M56DL Tri-Shot Spring Shotgun


Double Eagle's M56DL Tri-shot shotgun is a great starter shotgun for newer airsoft players. The tri-shot feature means that 3 BBs are fired simultaneously in true shotgun fashion! At 330FPS it's a shotgun that is feared in all close quarts combat games.
Features
330 fps w/ 0.12g BBs
One non-ejecting shotgun shell included
7 lbs gun net weight
39″ overall length
Best Cheap Airsoft Sniper Rifles
AGM L96 AWP Bolt Action Airsoft Sniper Rifle


Fill the role of sniper for your team with the new L96 AWP Bolt Action Rifle from AGM. This airsoft sniper rifle is a heavyweight replica constructed from a rugged polymer receiver and full metal barrel assembly and can easily withstanding the hardships of an airsoft battle. The ergonomically designed polymer grip is designed to be contoured with the users hand, providing optimal rifle maneuverability. This L96 features the same BB loading system as the real-steel version, and comes with a metal 30 round magazine. This airsoft sniper rifle also hits hard at 350 FPS with a 0.20g BB. It may be on our list of cheap airsoft guns, but don't let that fool you. This thing is a beast.
Features
350 FPS (0.20g BB)
Magazine: 30rd
Weight: 7lbs
Durable Polymer Receiver 
Full Metal Barrel Assembly 
Polymer Grip & Trigger Guard
Spring Powered Bolt Action L96 Replica
20mm Picatinny Top Rail
Polymer Stock 
Adjustable Cheek Riser & Rubberized But Pad
Full Length Precision Inner Barrel
Adjustable Hop-up  
Safe / Single Shot
ASG M40A3 Spring Powered Sportline Airsoft Sniper Rifle


ASG's successful high-end McMillan M40A3 sniper rifle now comes in a much more affordable sportline edition. Made with high quality polymer, the gun is light weight and durable. It also hits at an impressive e ~450 FPS with 0.20g BBs. Combined with it's adjustable hop-up, this rifle has the ability to hit targets that regular airsoft rifles simply can't reach. Making this a great airsoft sniper rifle for beginners.
Features
~450 FPS with 0.20g BBs
Spring Powered Bolt Action Sniper Rifle
Polymer Construction Stock
Metal Construction Bolt and Barrel Assembly
Picatinny/Weaver Accessory & Scope Rails
Adjustable Cheek Riser
Rubberized Buttpad
27 BB Removable Magazine
Adjustable Hop Up
AGM MP001 VSR-10 Aisoft Sniper Rifle


The new VSR-10 rifle from AGM is great for introducing airsoft enthusiasts to the fun of sniping, while making it affordable. This airsoft rifle features a durable imitation wood polymer construction with a full metal one-piece inner and outer barrel. For under $100, this is one of the best bolt action sniper rifles available on the market. This rifle is spring powered so you don;t have to worry about charging a battery or buying gas.
The VSR-10 features a polished bolt for added authenticity with a short and smooth bolt pull making it easy for all players to operate this rifle, and offers faster follow up shots. I personally really like this sniper and for the price it's totally worth it.
Features
Color: Wood
350 FPS (0.20g BB)
Magazine: 30rd
Weight: 5lbs
Durable Polymer Construction
Imitation Wood Finish
Bolt Action
Full Metal Inner & Outer Barrel
Lightweight Design
Steel Bolt & Assembly
Front and Rear Sling Mounts
20mm Accessory Rail
Adjustable Hop-up
Low Friction Bolt
Metal Trigger Assembly
Safe / Single Shot
AGM M14 SOCOM Rifle w/ RIS, Flashlight, and Red Dot Sight


The M14 SOCOM rifle from AGM is an extremely realistic replica constructed from a durable ABS polymer with a metal barrel assembly. These two build materials create a heavyweight, yet easily manageable and authentic feel for all airsoft players. The M14 SOCOM is a spring powered sniper rifle featuring a metal charging lever. The full metal extended barrel provides amazing accuracy and power.
The gun also features a full RIS system for the players choice when it comes to accessorizing this rifle. The RIS top rail and quad-sided handguard allows for the addition of tactical accessories such as: optic sights, grips, flashlights, or lasers. AGM has put together an impressive package that includes everything you need to maximize the potential of this high powered sniper rifle.
Features
Color: Black
320 FPS (0.20g BB)
Magazine: 37rd
Weight: 6.5lbs
Spring Powered Rifle
Durable ABS Polymer Construction
RIS Top Rail
Quad-sided RIS Handguard
Metal Barrel
Metal Charging Bolt
Realistic Replica
Red Dot Sight Included
Tactical Flashlight Included
Speedloader and Safety Goggles Included
Fixed Front Sight and Adjustable Rear Sight
Unique Textured Stock
Front and Rear Sling Mounts
Adjustable Hop-up
Safe / Single Shot
Top 15 Cheap Airsoft Guns For Beginners Final Thoughts
Just because you have a budget doesn't mean you cant dominate the airsoft field. I hope my list of 15 cheap airsoft guns for beginners has taught you that. I have personally owned some airsoft guns that were under 100 dollars, and they outperformed and outlasted other guns that were a couple hundred dollars. It just comes to show that sometimes more expensive isn;t always better.
So what did you think of our cheap airsoft guns list? Have you owned any of these airsoft guns? If so, let us know in the comments below and as always checkout our latest article here.