In the game of airsoft it's important to be able to hide behind cover quickly and effectively. Sometimes this includes running at a full sprint and sliding behind cover. One of the biggest problems with this tactic is the high risk of destroying your knees and legs from sliding. 
It would probably be a wise choice to invest in pair of knee pads specifically for sliding. But choosing the best knee pads for sliding in airsoft can be tricky. But there's no need to worry because we have a comprehensive list of our picks for the 5 best knee pads for sliding in airsoft. 
Top Selling Airsoft Knee Pads
How To Choose The Best Airsoft Knee Pads?
Knowing what airsoft knee pads you should purchase and those you should avoid is very much like any airsoft product. A cheap product is going to underperform leaving you wishing you would've invested on a better product. 
Specially when it comes to airsoft knee pads you're going to want to focus on a few things. The most important is comfortability followed by functionality. You're going to be running, jumping, and sliding around so you're going to want a knee pad that'll stay in place on your leg and will allow you to slide without getting hungup or breaking. 
Quality and durability is another factor. It's obvious that you knee pads have to be pretty tough to deal with all the abuse you're going to put them through. A poor quality knee pad is going to fall apart quicker and could possibly lead to injury, which nobody wants. 
In order to better help you pick the best airsoft knee pads for sliding let's take a look at some of the most important factors to purchasing airsoft knee pads.
When it comes to airsoft knee pads, price an important factor. There is no reason to spend hundreds of dollars on a pair of airsoft knee pads. It's also a bad idea to spend $10 on a pair of knee pads that'll fall apart within a couple games. Like anything else, try and find the sweet spot and price point that makes sense. More expensive isn't always better
Knee pads are made to be used and abused. By nature they are pretty tough and durable and should last you a decent time. However, it's still a good idea to get a high quality airsoft knee pad. The last thing you want is to have a knee pad fail you in the field when it matters most.
Not all knee pads are made for sliding. In fact, most knee pads are designed to only protect your knees on hard surfaces and are very popular among carpenters and construction workers. Always make sure the knee pad you want to use for airsoft is capable of helping you slide on the ground, and at the same time giving you the protection you need.
Another yet very important factor of what to look for when buying airsoft knee pads is the comfort level. In airsoft you're going to be running around from cover to cover for sometimes hours on end. The last thing you want is a knee pad that digs into your legs and causes pain or discomfort. Always make sure your airsoft knee pads fit properly and are comfortable.
All of the products we recommend in this airsoft knee pads review have all of these important buying factors in mind. Giving you the best review possible and helping you find knee pads that'll you'll love.
Valken Tactical X-Type Knee Pads
Valken Tactical's X-Type impact knee pads provide great knee protection on the battlefield. It's unique design is an upgrade to the classic cup design by providing wrap-around protection to the sides of the knee cap, along with reducing slipping and shifting of the knee pad while on the move or kneeling
Key Features of The Product
Constructed from nylon and high impact polymer with EVA high-density cushioned inner padding.
Unique X type TPU shell for multi-direction impact absorption.
Lined with CoolMax lyrca for comfort and moisture wicking properties.
Adjustable velcro top and bottom straps prevent slipping when changing stances or on the run.
Set of 2 Knee Pads
BONUS TIP: Unlike some knee pads, these are specifically designed for airsoft players
The Valken Tactical X-Type Knee Pads are perfect for anyone who needs a knee pads that offers maneuverability and well as quality. These knees pads a very comfortable, allow the user to slide, and does a great job at protecting your knee caps. All of this is acheived at a very reasonable price that anyone can afford. 
Pros
Great Knee Protection

Reasonably Priced

Comfrotable

Pad Stays Firmly In Place

Fully Adjustable
Extremely light and flexible, this all-new design provides superior protection and shock absorption with the flexibility to run with ease. XTAK Knee Pads by Hatch are the lightest, strongest knee pads of its kind. XTAK Knee Pads by Hatch features Spandex adjustable straps with Hatch Rapid Deployment Clips and hook & loop closure for a secure fit. 
Key Features of The Product
Unique X-shaped thermal plastic urethane (TPU) shell

EVA high-density foam for superior shock absorption

Lightweight TPU and Cordura® nylon construction

Forceful spring-back action provides the protection you need

Cool Max™ inner surface for wicking moisture away
BONUS TIP: If your style of play is a mobile sniper or you find yourself always on the move, these airsoft knee pads are for you!
These airsoft knee pads are perfect for the mobile airsoft player who needs something that wont slow them down. The XTAK Knee Pads are super light and won't slow you own when you're running full-tilt around the battlefield. Personally these are my favorite knee pads for airsoft.
Pros
Lightweight

Strong Straps

Moisture Wicking

High Density Foam

Affordable
AltaFLEX Heavy Duty Knee Pads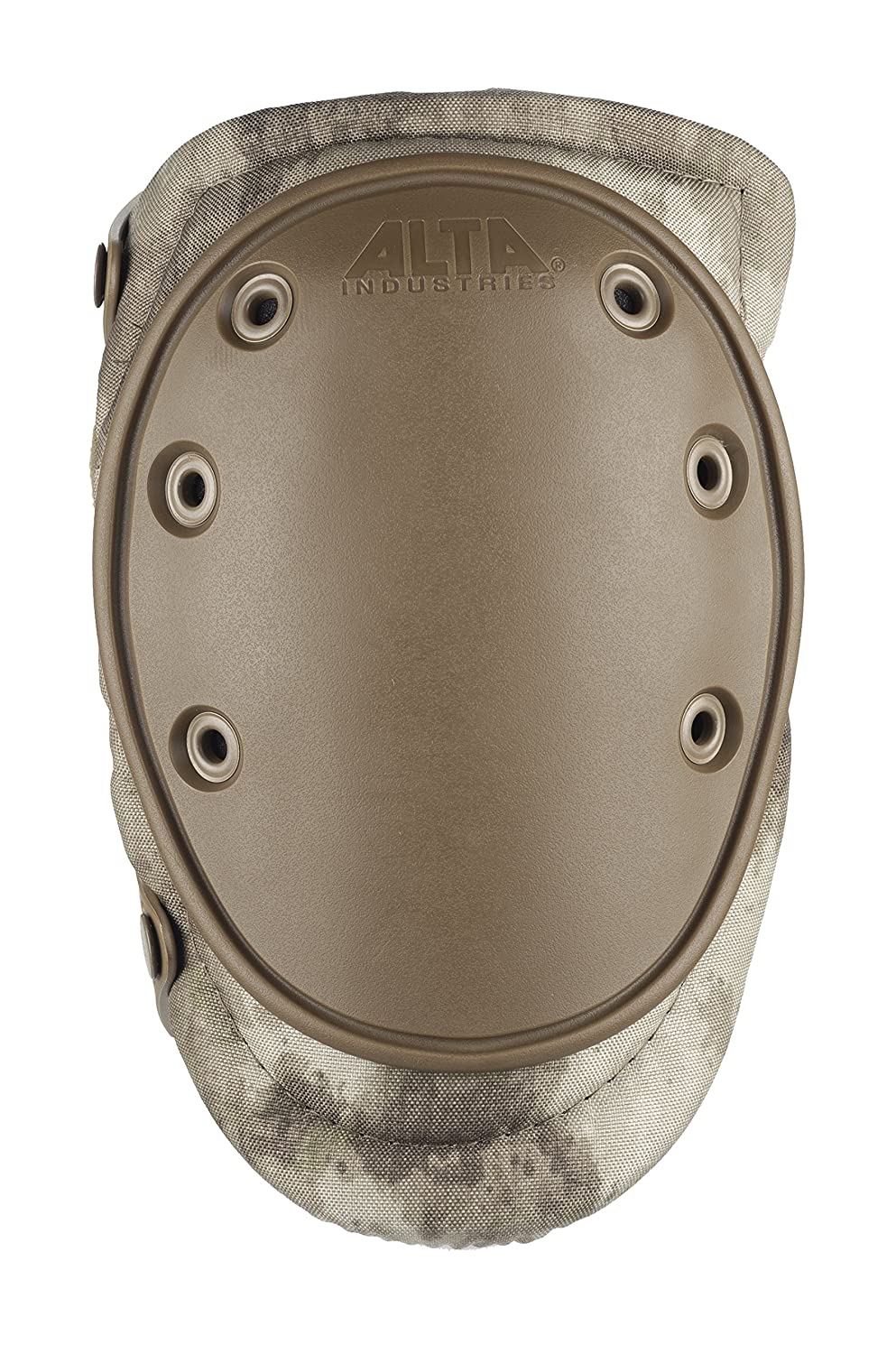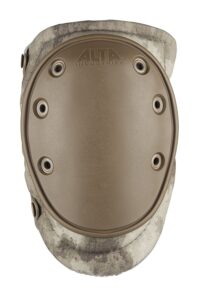 AltaFLEX knee protectors are built tough to take on any mission and keep you protected. It is made with military grade materials and quality construction with a Gel insert for extra comfort. Built tough to take abuse and stay locked firmly in place.
Compression recovery 1/2″ Neoprene foam padding provides firm, consistent support without bottoming out. Finished brushed tricot liner wicks away moisture and keeps out dirt and debris. Dual strapping system designed for secure fit.
Key Features of The Product
Durable thick flexible coyote cap protects against rocks and debris

ATACS Cordura nylon cover

Original AltaLOK easy on/off fastening system

Unique Alta Strapkeeper system to secure excess straps from flapping

Adjustable to fit most sizes
BONUS TIP: These airsoft knee pads are extremely tough but lack mobility. 
Airsoft players who are looked for ultimate knee protection would benefit from the AltraFLEX knee pads. They provide amazing protection to your knees in all conditions and are made from high quality materials. 
They are a bit bulky but are perfect for players who might have knee problems or stay in one place for a long period of time. Not to mention, they are pretty easy to slide in. 
Pros
Very Tough

Provide great support

Comfortable Gel Insert

Not hard to slide in
Cons
Straps can come loose easily

Runs a bit big
NoCry Professional Knee Pads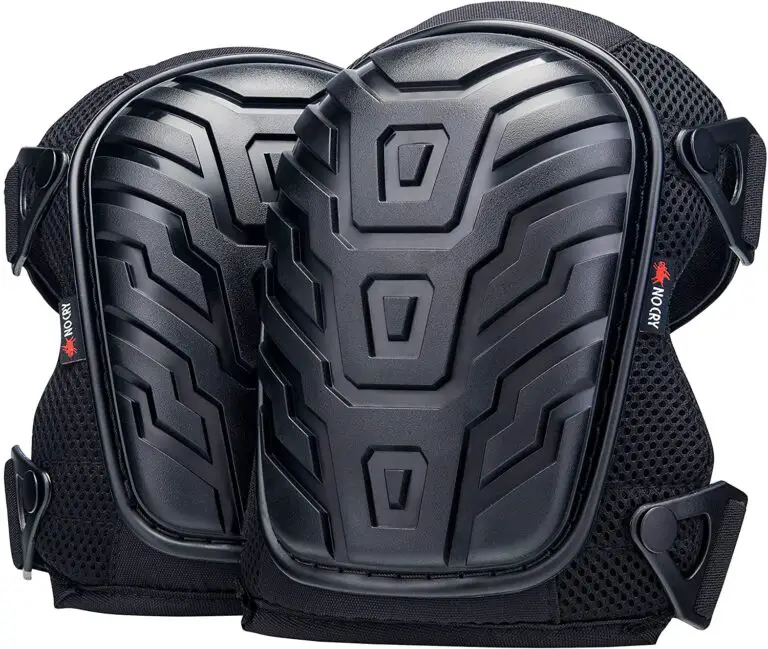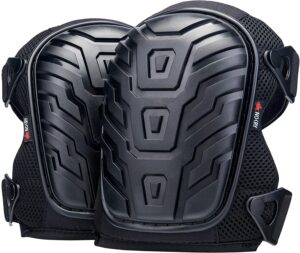 Coming in 4th place in our 5 best knee pads for sliding in airsoft is the NOCry Professional Knee Pads. These knee pads are actually not specifically for airsoft, but rather for carpenters and construction workers. However, they had to be added to this list because of their durability, amazing reviews, and protection. Sliding in these might be a little difficult, however, it is possible. 
Key Features of The Product
PVC, EVA foam, neoprene, 600D polyester, soft gel

PREMIUM PROTECTION DESIGNED FOR YOUR COMFORT AND SAFETY. The soft gel core and durable EVA foam padding cushion even the more sensitive knees. The heavy-duty thick poly shield protects against cuts or scrapes on any terrain.

ADJUSTABLE STRAPS FOR A FIRM, SECURE AND COMFORTABLE FIT. Forget about slipping, sliding knee pads. The flexible neoprene straps lock your pads in place. The ergonomic design hugs your knee for a superior fit. The quick release slip buckle clips make putting on and taking off your pads fast and easy.

BUILT TOUGH TO WITHSTAND HEAVY USE. Forget sweaty knees: the 600D polyester mesh breathes for all-day comfort. And the heavy-weight nylon thread ensures long-lasting durability. Just add these pads to your safety equipment tool box so you're never caught without protection.

UPGRADED METAL RIVETS. Our new rivets took care of the "rivets popping off" problem with the previous model. We updated the design so that they stay in place. However, if you have any issues with the rivets, contact us and we'll immediately send a replacement unit for free. (No return required.)
BONUS TIP: These may not be specifically for airsoft, but these knee pads are very popular and have amazing reviews on amazon
These knee pads are for the airsoft player who needs protection around the entire knee and doesn't care about bulkiness. This wont be great for prolonged running around the field due to it's large size. However, the is no surface that wont feel comfortable with these knee pads on.
Pros
Very tough & dourable.

Comfortable

Fully Adjustable

Affordable
Cons
Big & Bulky

Not Primarily Made For Airsoft
Lancer Tactical Knee Pad Inserts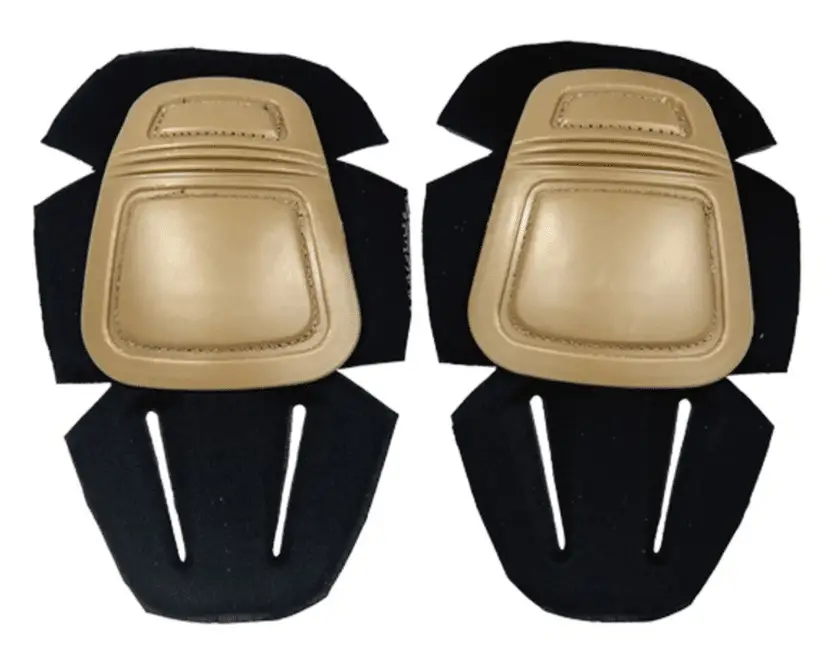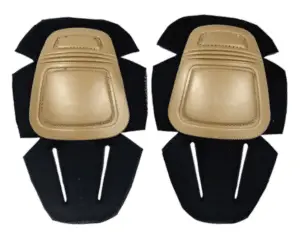 Last on our list of the 5 best knee pads for sliding in airsoft are the Lancer Tactical Knee Pad Inserts. These knee pad inserts are only for the Gen 2 & 3 Emerson Combat Pants. Because of this limitation, it made the last spot on our list. However, these knee pads along with the tactical pants are incredible and is definitely worth a buy and a spot on this list. 
Key Features of The Product
Designed for the Lancer Tactical Gen 2 / 3 Combat Pants
Durable Quality
Easy Installation
BONUS TIP: Lancer Tactical is a very well know and trusted airsoft brand that make very high quality products. 
If you already own a pair of the Emerson Combat Tactical Pants, these knee pads are a must buy. For those we are looking for a high quality comfortable knee pad and a pair of tactical pants, I would suggest buying this combo. 
Pros
Very Dourable

Easy To Install

Comfortable

Affordable
Cons
Are Only Inserts

Little Information Details
Why Would I Need Knee Pads To Play Airsoft?
Knee pads aren't as important as face masks or eye protection, however they can still be important and useful. Running and sliding from cover to cover can tear up your knees and put holes in your pants. Knee pads prevent this and also provide cushion between your knee and sharp objects like rocks and twigs. 
Are Airsoft Knee Pads Expensive?
No airsoft knee pads are not expensive. Most range between $20 and $35
5 Best Knee Pads for Sliding in Airsoft Final Thoughts
Sliding in airsoft is important and so is protecting your knees. Wearing knee pads during an airsoft match will give you greater confidence in sliding and kneeling down on surfaces you might be hesitant about. I often wear knee pads during outdoor woods play, my knees thank me, and i's sure yours will too. 
I hope you liked our review on the 5 best knee pads for sliding in airsoft. Which knee pads do you use? Do you use any at all? Let us know in the comment section below and as always feel free to checkout our latest article here