As an avoid airsoft player, there's no better feeling than taking that sweet headshot and the enemy still has no idea where it came from. Taking out enemy after enemy from a safe distance….that's the life.
But maybe you're new to the sport and want to experience being an airsoft sniper. Or maybe you're a veteran and just want to know the 10 best airsoft sniper rifles for the 2021 year.
Regardless of the reason you've come to the right place! So lets take a look at the 10 best airsoft sniper rifles of 2021
Top Selling Airsoft Sniper Rifles On Amazon
How To Choose The Best Airsoft Sniper Rifle?
If you have dreams on becoming a top airsoft sniper, but your dreams fall short because you don't know which airsoft sniper rifle would be best for you, you've come to the right place. Here we will go over what makes a good airsoft sniper rifle and how to choose it. 
It may be no surprise but there's a lot of factors to consider. Like all airsoft guns, sniper rifles come in many different shapes and sizes as well as uses. It's going to greatly depend on your price range, style of play, and features that you need or don't need.
This can get very in depth and a bit tedious. To save you some time, here are a few things you should consider in helping you choose the best airsoft sniper rifle for you.
Have an airsoft sniper rifle that functions the way you want it can be very important on the battle field. Some sniper rifles are bolt action, and some are semi auto, others are powered by a spring, while others rely on green gas or sometimes electric batteries. 
You will have to take into account when purchasing your first sniper rifle. The last thing you'll want is to purchase a rifle with a bolt action when you hate bolt action. Below is a little breakdown of some of the popular airsoft functions you'll want to be aware of. 
Bolt Action Sniper Rifles
Bolt action Sniper rifles are really popular and are my favorite to shoot. To operated it, you have to manipulate the bolt via a bolt handle, sliding it back, and then forwards again between shots. bolt action airsoft snipers are all spring action rifles
Full Auto Airsoft Pistols are able to fire continuedly with a simple squeeze of the trigger. These are usually electric powered.
Spring Powered Sniper Rifles
Spring Airsoft Snipers are great inexpensive replicas that work on a single spring piston system. They don't require batters or gas, making them a great option for people on a budget.
Gas Powered Sniper Rifles
Gas Sniper rifles come in several varieties with Gas Blowback, or (GBB) being the most popular. Powering off of a gas propellant, most rifles have a realistic cycling action that gives the shooter a sense of recoil. Usually used for Airsoft gameplay, and as a viable training tool, these rifles look and feel just like their real-life counterparts. Making gas powered rifles one of the most fun airsoft Sniper types to shoot
Battery Powered Airsoft Sniper Rifles
Also know as Airsoft Electric Rifles or AER, are battery powered rifles that are powered off an electric motor and piston system. These rifles are very low maintenance and are greatly favored by players in colder environments where Gas Powered rifles are known to have performance issues.
Probably one of the most important factors in our 10 best airsoft sniper rifles of 2021 review is price. Sniper rifles have the biggest range in price than all other airsoft guns. Some snipers go for as low as $50 while some are over $500 and even in the thousands. 
Having such a great variant in price can get very overwhelming ( know it was for me). The last thing you're going to want is underpay or overpay on an airsoft sniper. So to help avoid this, here are a very price ranges you should keep in mind for your next purchase. 
Stay away from any airsoft sniper rifle that's under $50. All of the guns at that price are going to have plastic internal parts that are just complete garbage. Not only that, but the gun will feel cheap, light, and awkward. 
Basically all snipers under $50 are cheap pistol or rifle internal parts, that are encased in a shell that looks like a sniper rifle. If you're looking for a cheap airsoft sniper rifle, just save a few more dollars and purchase at the next price point. 
Airsoft sniper rifles at this price range are the minimum price you should be looking at. Guns in this category are made of hard plastic and have some additional features such as scopes and trails. Some might even have some metal internal parts with a hop-up system, thus greatly improving accuracy. 
If you're a beginner, and you're looking to get your feet wet as an airsoft sniper, you might want to purchase a gun at this range.
Now we are starting to get into the intermediate class of  airsoft snipers. This is a great choice if you're just starting out or your starting to get serious as an airsoft sniper. This is where you'll start having a couple more options such ashigh powered scopes, full metal guns, and strong internal parts. Some snipers at this price range can push over 500 fps and are full 1:1 scale of real sniper rifles
Now we are getting into the professional class of sniper rifles. These guns are made of very high quality parts in come in a variety of features that you'll find in their real life counterparts. 
Most people who opt for guns at this price point are actively competitive airsoft players who need to be able to hit targets at great distances. My personal sniper rifle is at this price point and I have no regrets. 
Sniper rifles at this price point are rare but they do exist, Most people who purchase a gun at this price point are very hardcore airsoft players that really want the absolute best of the best. In my opinion, an airsoft sniper over $500 is overdoing it, but than again, if I had the money I probably would be purchasing one. 
Airsoft sniper rifles come in a variety of different features, sizes and functions. When making your purchase, it's important to make a list of some features and functions that you absolutely need. These might include: A full metal frame, bolt action, 10X Scope, over 500 FPS and so son 
Here are a few things you should ask yourself before purchasing an airsoft sniper rifle.
Does it have blowback?
Are there different color options?
What's the FPS?
What is it powered by? Gas, Electric, Spring?
Is it Full Metal Or Plastic?
What is the magazine size?
Does it have HopUp?
If you've asked yourself some of these questions, you'll eliminate buyers remorse. Just keep in mind that almost no 2 airsoft sniper rifles are the same. Each are going to have a slightly different feel, look , and functionality.
Last but currently not least is the quality of the airsoft sniper rifle. it's not a shocker, but the cheaper the gun, the crappy of a quality it's going to be. On the flip side, the more expensive the gun, the better it'll perform.
I'm not saying to go purchase a $1000 sniper rifle, but try to stay in the sweet spot. Anything around $200 is going to get you a fantastic rifle you'll love.
To further help you, here area some important high quality features you might want to lookout for.
Metal Interior Parts
Metal or Polymer Frame
Not under $50
Licensed By a Reputable Company
10 Best Airsoft Sniper Rifles of 2021 Review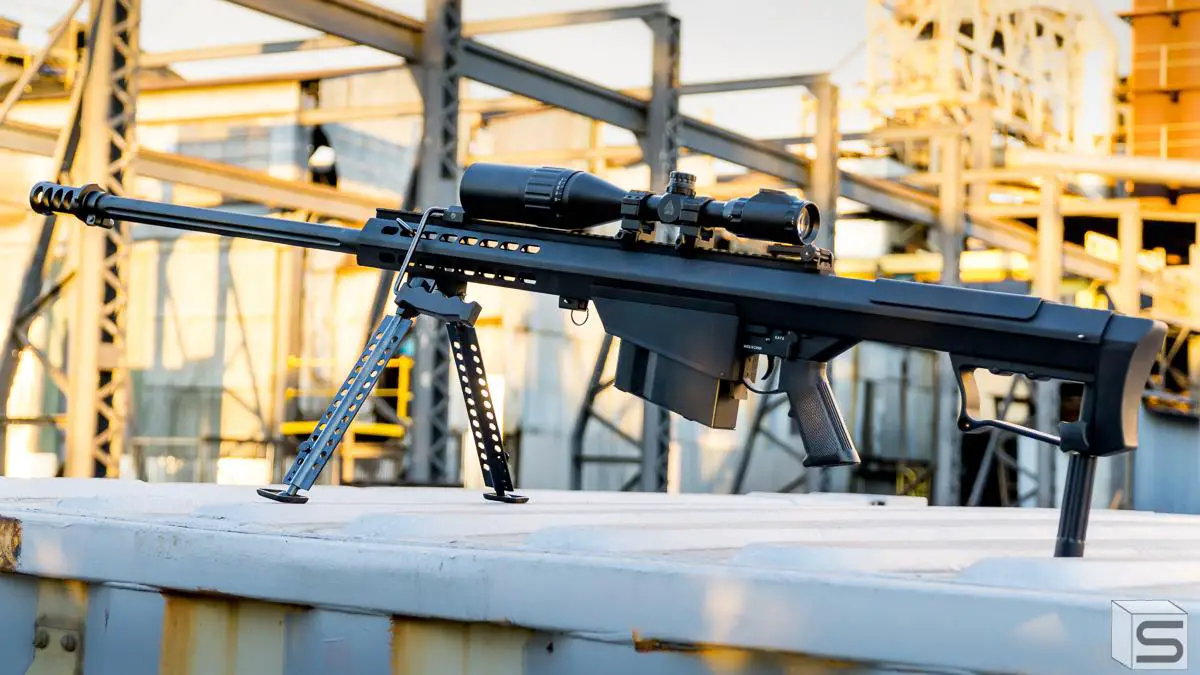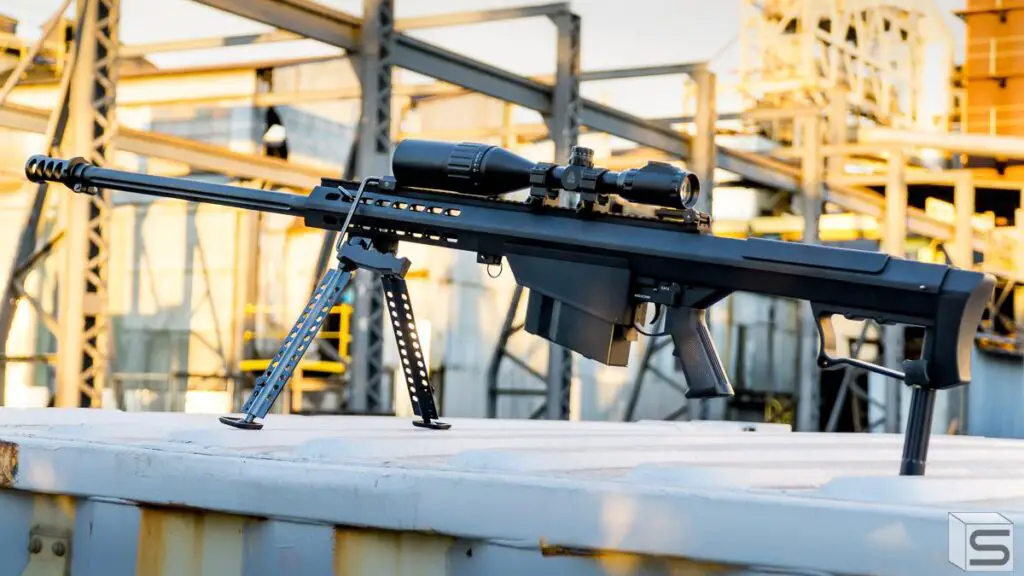 We have talked about the types of airsoft pistols as well as the price points, functionalities and qualities you should look out for. Now it's time to jump right into what you've been waiting for. Here are is our list of the 10 best airsoft pistols of 2021
BBTac M61 Airsoft Sniper Rifle
First on our list is the BBTac M61 Sniper Rifle. This gun is a very basic sniper but has some features that make it a good buy for those who are on a tight budget. It's durable, can shoot in the mid 400 FPS range, and has a smooth bolt action feel

Did You Know: The BBTac M61 comes with a red dot scope (does not magnify)
Key Features of The Product
Pros
Shoots between 420 - 475 fps

Made of ABS Plastic

Smooth Bolt Action

Red Dot Scope Included
Cons
Very basic

Not many features
CYMA ZM51 Bolt Action Airsoft Sniper Rifle w/ Scope and Bipod
The ZM51 bolt action sniper rifle from CYMA is perfect for introducing airsoft enthusiasts to the fun of sniping, and comes in an economic package to fit any budget. This rifle features a durable polymer construction with a full metal one-piece inner and outer barrel. The combination of these two materials creates a lightweight platform while still having a sturdy, realistic feel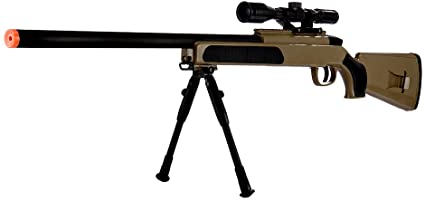 Did You Know: This airsoft sniper only weighs 3.3 lbs?
Key Features of The Product
Pros
415 fps

Made Of Durable Polymer

Includes Scope & Bipod

Has Hop-up

Lightweight
Cons
Low fps

Scope and bipod are low quality
ASG McMillian Sportline M40A3 Sniper Rifle
The ASG McMillian M40A3 airsoft gun is a direct replica of it's famous military counterpart. Many U.S. Marine airsoft enthusiasts really like this gun and theres no wonder why. It's a very accurate gun for the price and shoots around 400fps. It also comes with a 20mm optic rail, leaving tons of room for additinall atachments.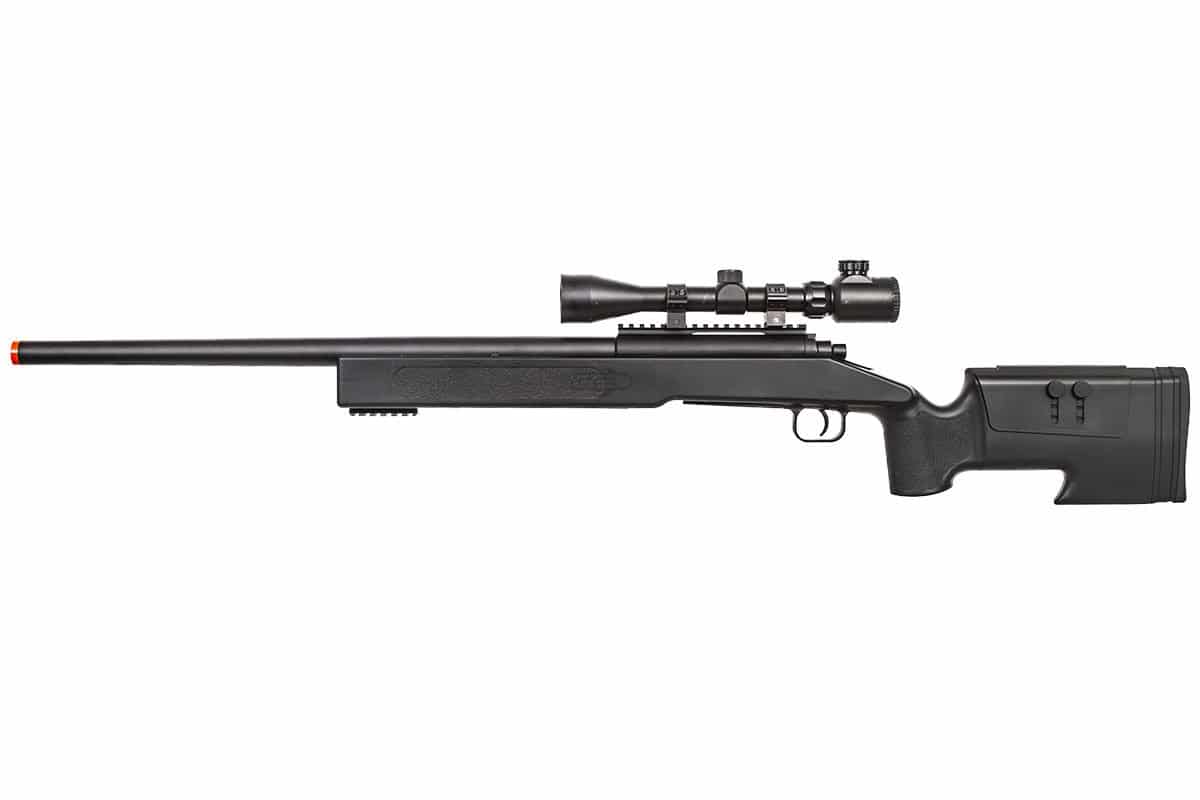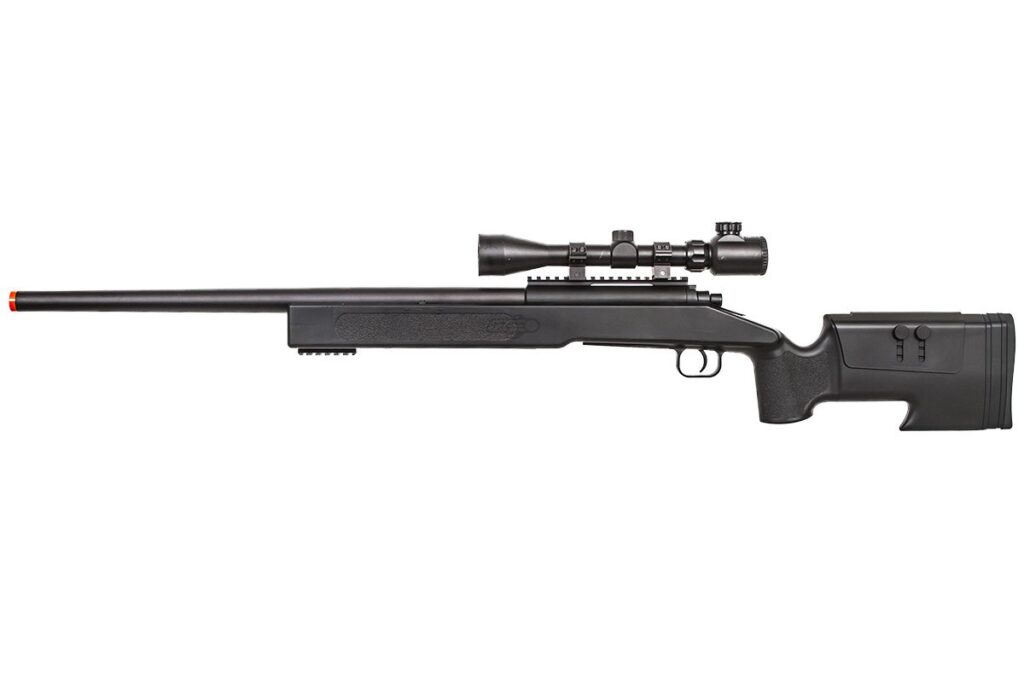 Did You Know: This airsoft sniper is an exact 1:1 scale replica of the M400A3?
Key Features of The Product
Pros
Licensed Product

1:1 replica of the M40

Lots of good reviews

Bolt Action Is Very Smooth
Cons
Bipod Not Included

Magazine Only Holds 20 rounds
BBTac BT-L96 Airsoft Sniper Rifle Package
If you're looking for a great deal look no further. The BBTac BT-L96 airsoft sniper rifle package is one of the best deals you'll find. Though it's mostly made of plastic, it includes the airsoft's rifle, scope, and bipod at a very competative price. 


Did You Know? The BT L-96 airsoft sniper design is one of the most popular airsoft sniper designs on the market today?
Key Features of The Product
Pros
Great Value Buy

400 FPS

Metal bolt assembly & Barrel

Great look & Feel
Cons
Low FPS Compared To Others On This List

Plastic Parts

Slightly Above Average Reviews
Well MB13 Heavy Weight Airsoft Sniper Rifle with Scope & Bipod
The well MB13 sniper rifle is a sniper rifle that should be taken seriously on the playing field. This gun shoots hard, has pinpoint accuracy, and great range. The fact that it includes a 3-9x zoom scope and a bipod makes it an even more formidable weapon. The variable zoom scope allows you to easily sight in your target from long distances, and is also great for scouting out the opposition. The bipod is full metal and folds out easy for a stable shooting platform.  If you're looking for a great sniper rifle this is the airsoft gun for you!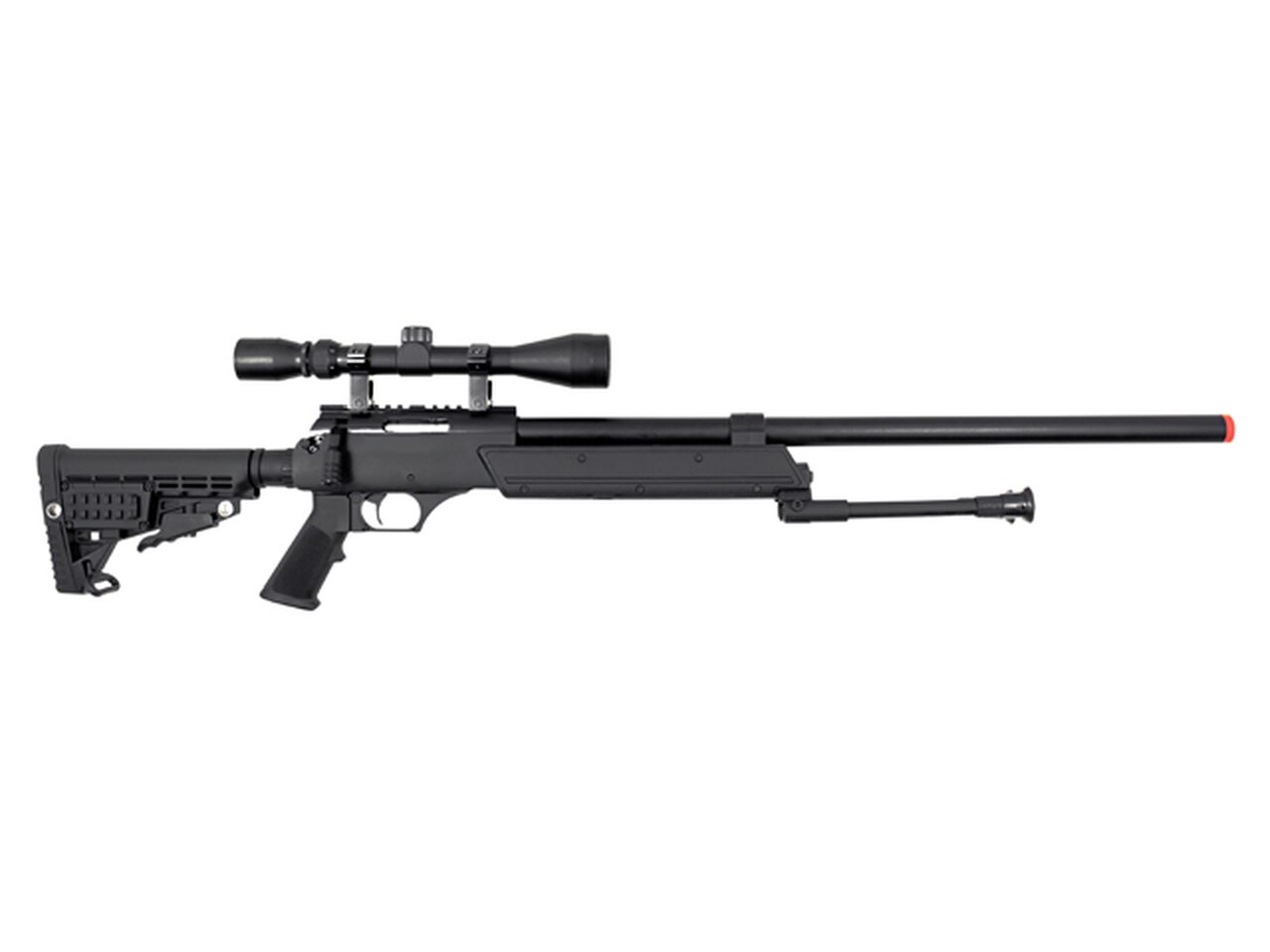 Did You Know? The MB13 airsoft sniper rifle included not only a scope but a bipod as well, both being fully metal
Key Features of The Product
Pros
480 FPS

Adjustable Stock

Scope & Bipod Included

Heavy Weight Rifle

Adjustable Hop-up
Cons
Scope is of Average quality

Low Magazine Round Size
WellFire MB4417 M40A3 Bolt Action Airsoft Sniper Rifle
Hang back and lay down cover fire for your teammates with the help from the futuristic MB4417 M40A3 Bolt Action Airsoft Sniper Rifle from WellFire. This next-level sniper rifle is constructed with an injection-molded nylon fiber reinforced polymer body and metal alloy receiver to provide maximum durability and realistic weight. Ergonomically designed stippling on the pistol grip & handguard provides optimal grip in all weather conditions.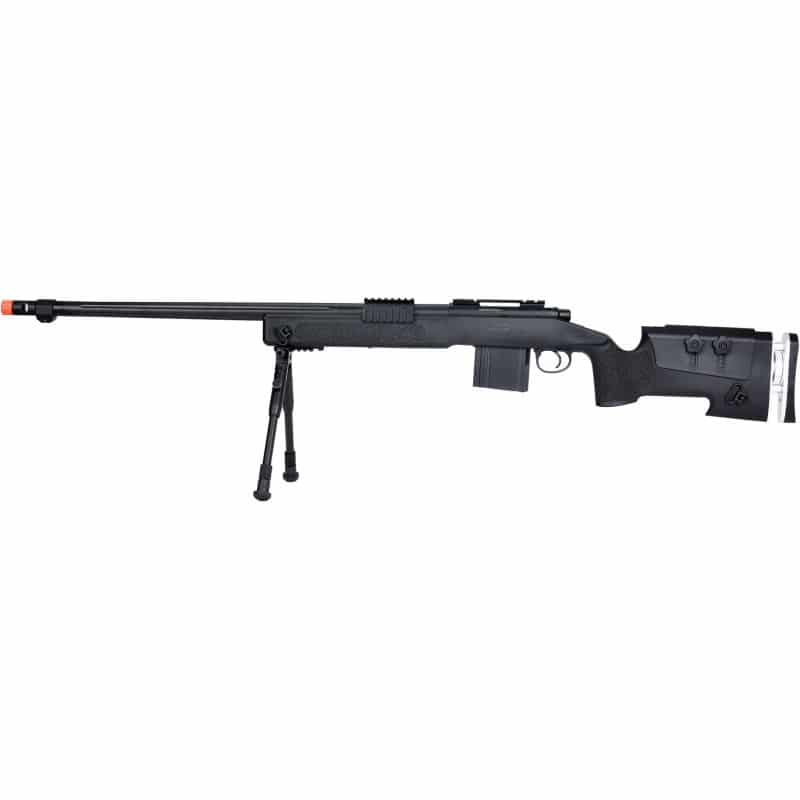 Did You Know? In our 10 best airsoft sniper rifles 2021 review, this is the first to feature a cheek and shoulder rest?
Key Features of The Product
Pros
30 Round magazine

Metal Allow Reciever

Adjustable Hop-Up

Very Well Built

Great range & Accuracy
Cons
Lower FPS Than Others At This Price Point

No Scope Or Bipod Included
Well MB4411G Bolt Action Spring Sniper Rifle
The Well MB4411G Bolt Action Sniper Rifle is most certainly one of the most intimidating spring sniper rifles on the market. It features a style fluted metal outer barrel and a polymer hand guard with a quad rail system , allowing you to mount any needed tactical accessories such as a bi-pod or laser. swaps. The ergonomic pistol grip is contoured for maximum comfort. The fold-able stock has an adjustable cheek riser to provide comfort for long distance shooting.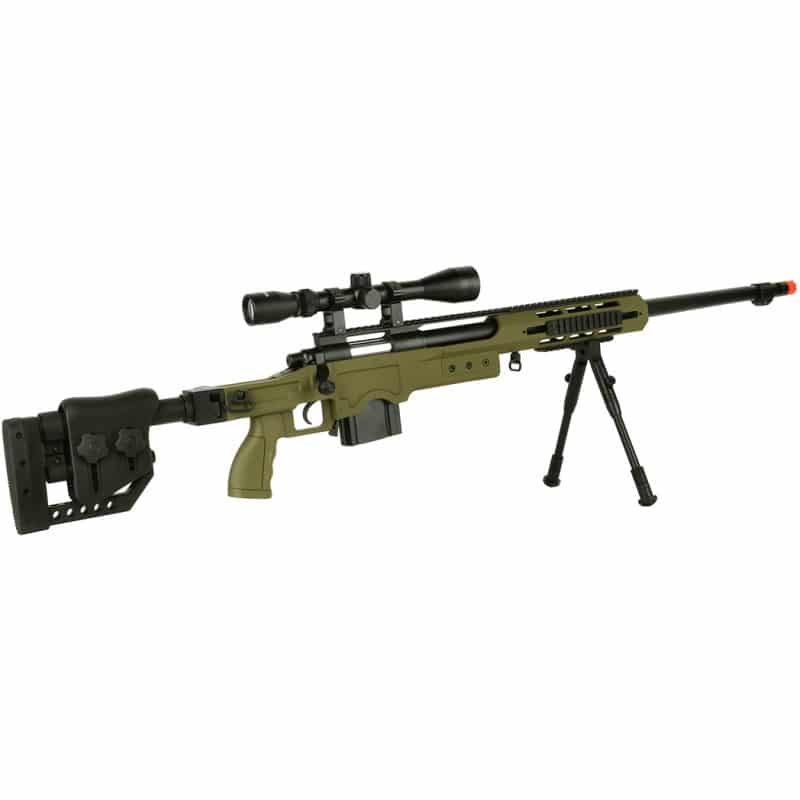 Key Features of The Product
Pros
450 FPS

Full Metal Barrel & Frame

Solid Construction & Design

Features A Pistol Grip Handle

Adjustable Stock & Cheek Rest
Cons
Not Certified

A Bit Heavy at 9lbs
A&K SVD Dragunov Airsoft AEG Sniper Rifle
One of my favorites in the 10 best airsoft sniper rifles list! The A&K SVD Dragunov Airsoft AEg Sniper Rifle is a real wood replica of the famous Dragunov sniper rifle. This intimidating beast of a rifle is a full metal construction with a real wood stock. Features adjustable sniper cheek riser and rear leaf sight. Choose between semi auto and full auto with a simple flick of a switch. No doubt, the A&K SVD Dragunov will not dissapoint you.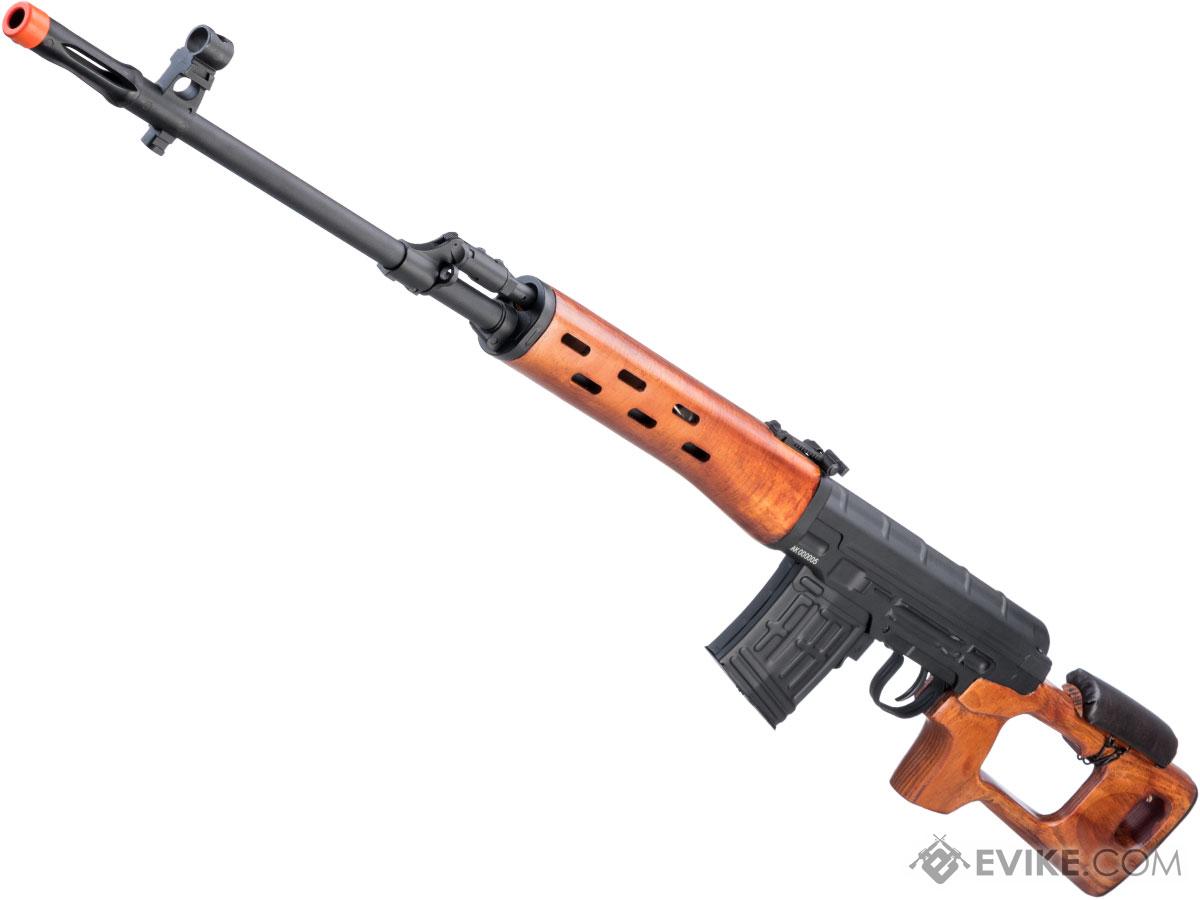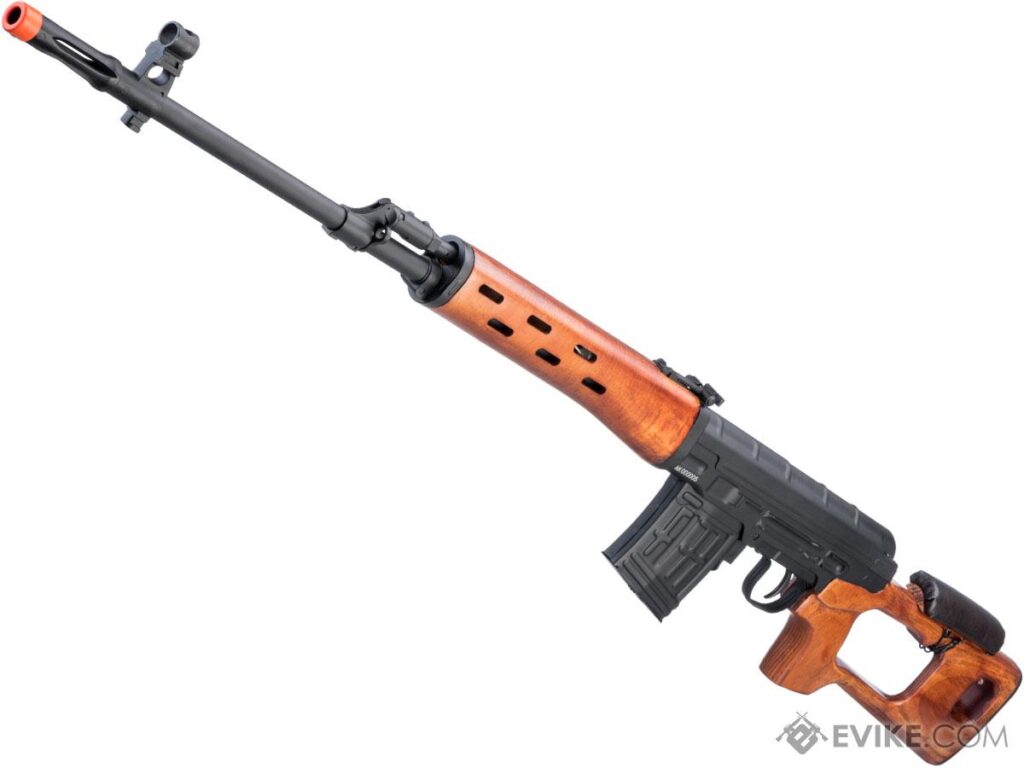 Did You Know? This sniper rifle is not only fully metal but the wooden stock is made of real wood!
Key Features of The Product
Pros
420 FPS

Strong Full Metal Construction

Adjustable Hop-up

Has Great Reviews

Very Accurate
Cons
Internals Are Average

Stock Is Reported To Be A Bit Flimsy
CheyTac Licensed M200 Intervention Airsoft Sniper Rifle
The CheyTac M200 Intervention was designed for one purpose, to dominate on the battlefield at extended range. Designed purely to give the modern warfighter the ability to send devastatingly accurate fire downrange. Utilizing a proprietary round with an incredibly flat trajectory and the ability to be used in conjunction with a wide variety of optics including PVS/14 night vision systems the M200 ensures that anyone attempting to run will in fact die very tired.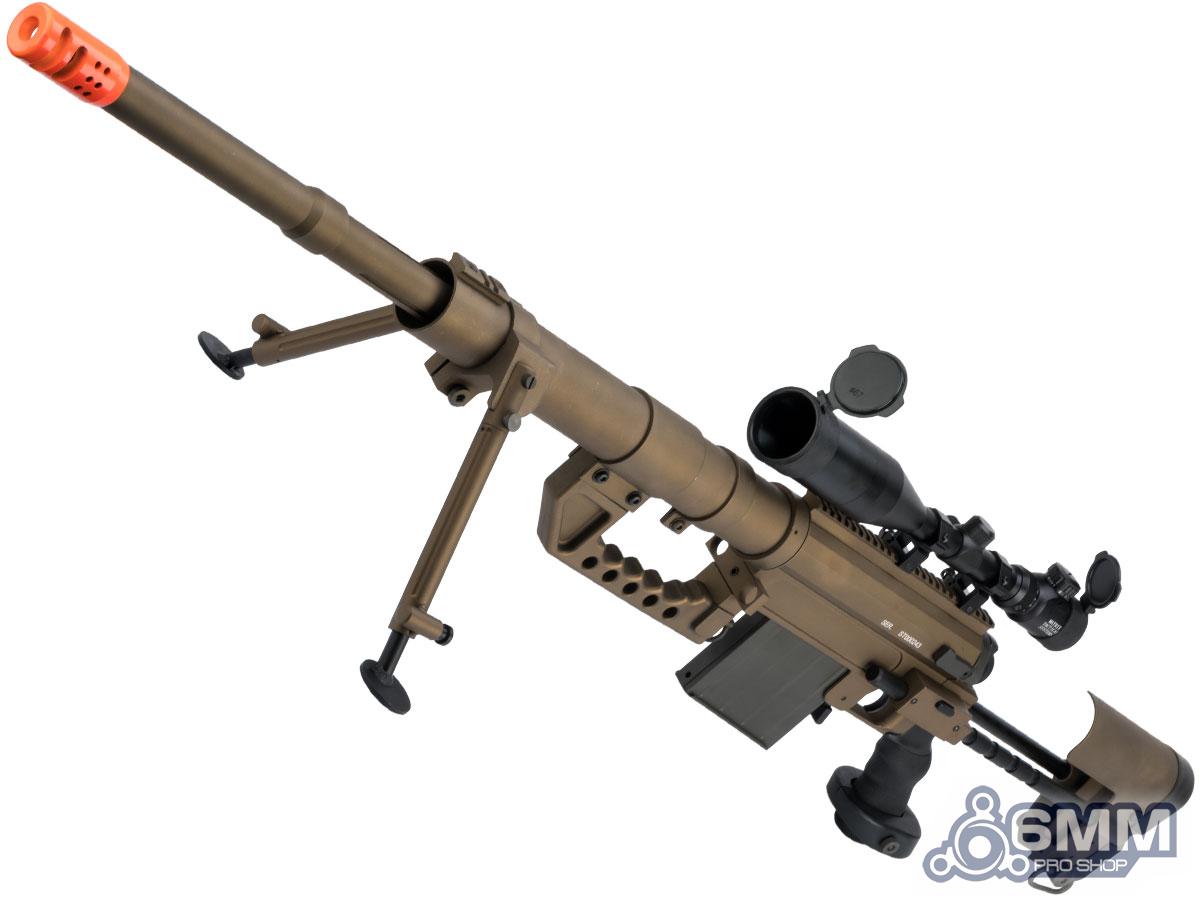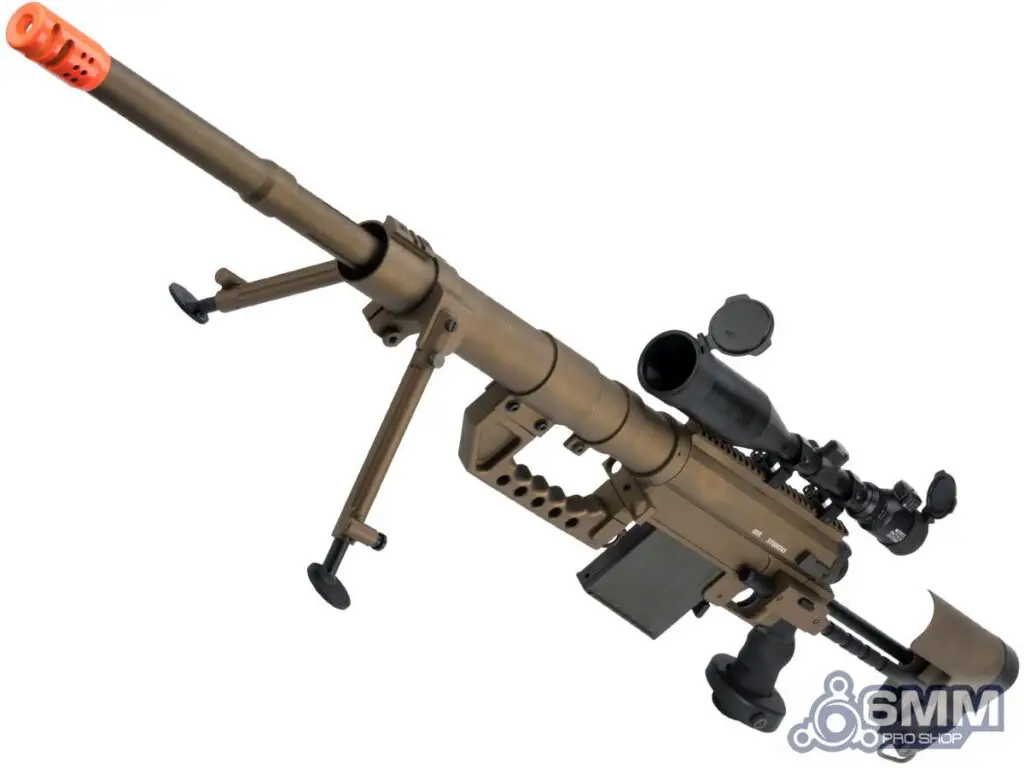 Did You Know? This gun has been reported to be able to hit a target at 250 feet!
Key Features of The Product
Pros
Looks Incredible

Licensed By CheyTac

Powerful & Accurate

High Quality Construction

Shoots Far
Cons
Sometimes Gets Jammed

Poor Hop-Up Placement
6mm ProShop Barrett Licensed M107A1 Gen2
#1 On our list of the 10 best airsoft sniper rifles of 2021 is the Barrett legacy began with the M82 as the first shoulder fired, semi-automatic 50 BMG rifle; capable of delivering massive firepower with amazing accuracy at extreme ranges.
Fast forward 35 years of research and development along with the feedback from the most demanding military end users and everything learned about the M82 family of rifles leads to the creation of the M107A1.
Referred to by military personnel as the "Light Fifty" the M107A1 shares many similarities with the M82A1 with its awesome firepower and legendary dependability and iconic appearance but that is where similarities end. Advances in materials and manufacturing allows every component to be re-engineered to be lighter and stronger.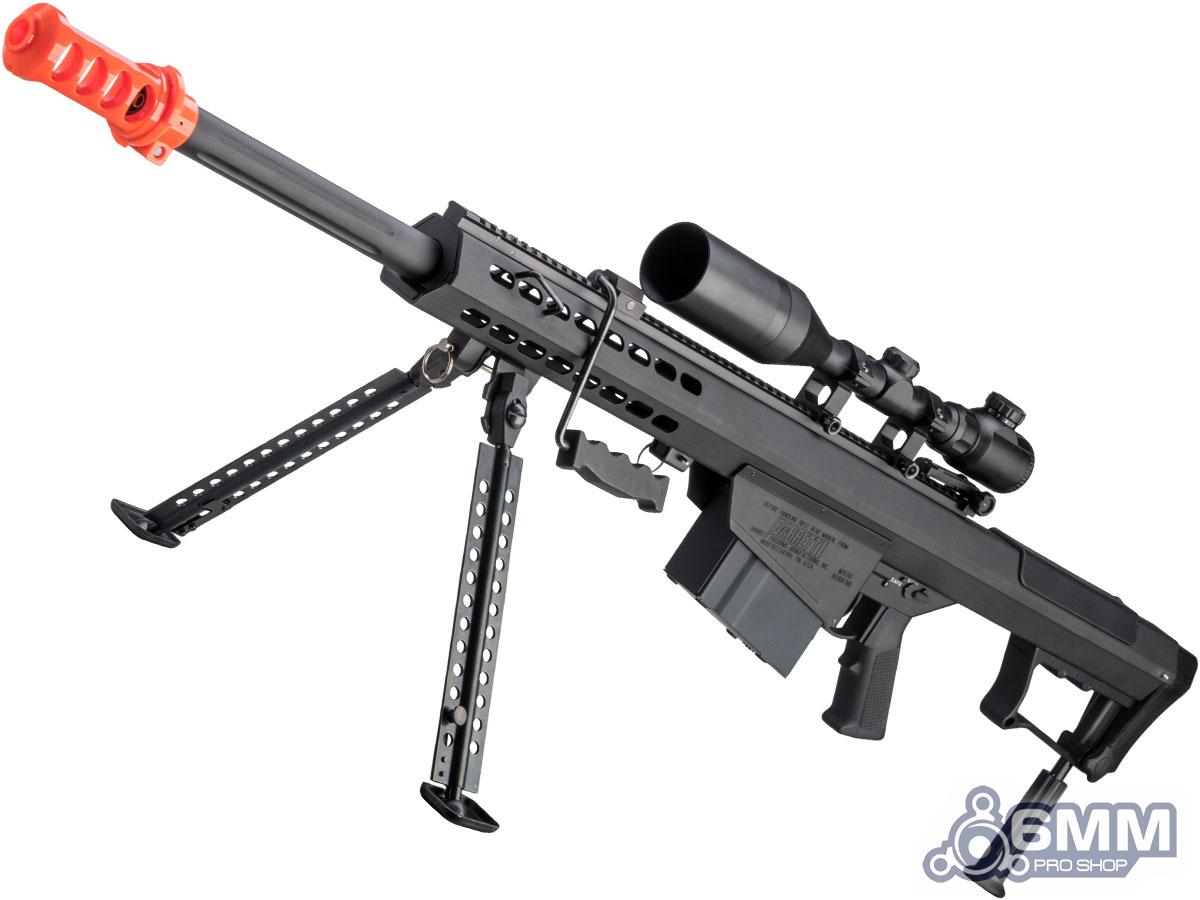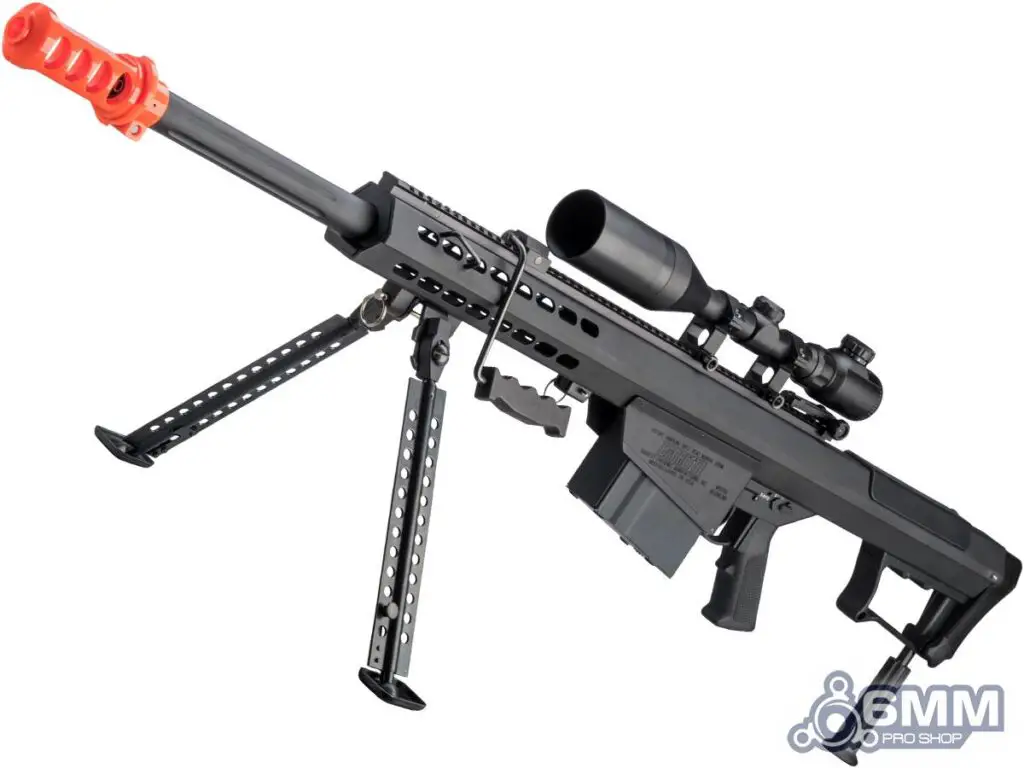 Did You Know? This Sniper Rifle is Capable Of Shooting Full Auto
Key Features of The Product
Pros
Looks Amazing

Strong & Accurate

Capable Of Shooting Long Distances

Licensed by Barrett

Constructed with High Quality Materials

Lots Of Rail Space
Cons
Barrel is Heavy

Full Auto Is A Bit Finicky
Airsoft Sniper Rifles FAQ
How Far Can An Airsoft Sniper Rifle Shoot?
Typically the maximum range that an airsoft sniper rifle can shoot is 100 meters. However these guns are usually heavily modified or very expensive. Your average airsoft sniper rifle will shoot about half that, around 50 meters or so. 
Can An Airsoft Sniper Rifle Break Skin?
Yes. If you get shot with an airsoft sniper rifle at close range on bare skin it can break the skin. In some cases the BB can become logged into the skin. Thats why wearing proper airsoft protective equipment is very important and to not shoot people at close range
Can I Modify my Airsoft Sniper Rifle?
Yes you can. Anything from a scope, bipod, trigger assembly, upgraded barrel and internals. For more info checkout The Parts Section Here
10 Best Airsoft Sniper Rifles of 2021 Review Final Thoughts
Airsoft sniper rifles are some of the most powerful guns in all of airsoft. There's also a wide variety of styles and attachments and it can all be very confusing on which sniper is going to be the best for you as a player.
You also might have noticed that some of these airsoft sniper rifles are quite expensive. If you have the cash I would recommend the Well MB4411G or the CheyTac. However, if you're on a budget, your best bang for your buck is going to be the Double Eagle Field Marksman.
So there you have it, We hope you enjoyed out picks of the 10 best airsoft sniper rifles of 2021. What did you think of our list? Do you own any of these bad boys? Let us know in the comments below!