Here at Airsoftgoat we understand that a quality sidearm is extremely important in airsoft. When your primary gun is out of commission, you're going to want to stay in the fight and help your team out.
There's literally hundreds of differently airsoft pistols and it can be difficult to choose the right one. But no worries, we have looked and used countless airsoft sidearms and we narrowed it down to the 10 best airsoft pistols here in 2020.
So sit back, relax, and lets get to it!
Top Selling Airsoft Pistols On Amazon
How To Choose The Best Airsoft Pistol?
Choosing the best airsoft pistol  is not always an easy task. There's so many on the market today that it can get very overwhelming. I know when I first was looking at purchasing my first airsoft pistol I had no idea where to start. 
Luckily you're not alone, and this 10 best airsoft pistol review is going to help you better decide which airsoft pistol is going to fit your specific needs. Some of these needs include, functionality, price, features, and quality.
Have an airsoft pistol that functions exactly how you want it to is very important. Some pistols are semi auto, and some are full auto, while others are spring power, battery powered, and gas powered. You're going to have to take all of these factors into account when purchasing your first airsoft gun. If you're unsure on the differences between all of these, here is a breakdown. 
Semi Auto Airsoft Pistols are able to fire repeatedly through an automatic reloading process but requiring pressing and releasing the trigger between successive shots. These guns are typically battery or gas powered.
Full Auto Airsoft Pistols are able to fire continuedly with a simple squeeze of the trigger. These are usually electric powered.
Air Spring Airsoft Pistols are great inexpensive replicas that work on a simple single spring piston system. They do not require batters or gas, thus making them a great option for airsofters on a budget.
Gas Pistols come in several varieties with Gas Blowback, or (GBB) being the most popular. Running off a gas propellant, most pistols have a realistic cycling action to give the shooter a sense of recoil. Used for Airsoft gameplay and as a viable training tool, these pistols look and feel just like their real-life counterparts. Making gas powered pistols one of the most fun airsoft guns to shoot
Also know as Airsoft Electric Pistol, or AEP, are battery powered pistols that run off an electric motor and piston system. These pistols are relatively low maintenance and are favored by players in colder environments where Gas Powered Pistols are known to have performance issues.
Price point is one of the biggest factors for airsofters or any hobby for that matter. Nobody wants to spend $1,000 on an airsoft pistol, but you also should stay away from the $9.99 guns I see all over amazon and Ebay. 
It's hard to find that pricing sweet spot but generally there are a few things you should avoid and keep in mind. Below is a little guideline to keep you help you decide on what price range is suitable for your needs. 
Stay away from any airsoft gun that's under $10. If you're that low on cash and for some reason despirate to buy an airsoft pistol, wait and purchase another sidearm and the next higher price point. Everything at this price is going to be complete junk . Dont waste your time and money. 
This is the absolute lowest you should ever spend on an airsoft gun. There are a couple guns that are OK at $20, but I would stay away from anything near $10. Don't have high expectations and expect pistols at this price to shoot about as well as a NERF gun. 
Now we are starting to get into the beginners class of  airsoft pistols. This is a great choice if you're just starting out or your looking for a cheap sidearm or secondary gun. This is where you'll start having a couple more options such as gas powered, battery and electric. Just keep in mind that some of these guns still not going to perform extremely well. You can expect about 200FPS and a range around 50 feet. 
My first airsoft pistol wasat this price point and it was one of my best purchases. Airsoft sidearms at this price point are great for intermediate players looking for a good quality airsoft pistol are great price. 
Some of these aren't going to be full metal, but there are going to shoot much better and farther than the lower priced airsoft pistols. In fact, most of the airsoft pistols on our 10 best airsoft pistols 2021 review are in this price bracket. 
Airsoft pistols at this price range are going to be the most fun to play with. Most are full metal and have blowback capabilities that make shooting this gun a blast. Most shoot over 300 FPS are are very accurate with the correct BB.
Most competitive players prefer guns at this range for obvious reasons. You're getting a high quality firearm that's going to last you a long time. 
You aren't going to find many airsoft sidearms at this price point, but there are out there. This is mosty reserved for the very hardcore airsoft players that really want the absolute best of the best. In my opinion, a $150 airsoft pistol is going to do and perfecm almost as well as a $250 gun. 
However, if you're the type of person who has money to burn, and you're looking for the best of the best, look at this price point. 
Airsoft pistols come in a variety of different features and options. When making your purchase, it's important to make a list of some features that you absolutely want. These might include: A full metal frame, blowback feature, traditional sights, over 300 FPS and so forth. 
The list is pretty long, but here are a few features I like to ask myself when I'm about to buy an airsoft gun
Does it have blowback?
Are there different color options?
What's the FPS?
What is it powered by? Gas, Electric, Spring?
Is it Full Metal Or Plastic?
What is the magazine size?
Does it have HopUp?
If you ask yourself some of these questions before purchasing, you're well on your way of being a very happy airsoft pistol owner. Just keep in mind that almost no 2 airsoft guns are the same. Each is going to have a slightly different feel, look , and functionality.
Last but currently not least is quality. It might not surprise you that this also goes hand in hand with pricing. Obviously the cheaper the gun, the crappy of a quality it's going to be, the more expensive the gun, the better it'll perform.
I'm not saying to go after an airsoft pistol that's $400, but try to stay in the sweet spot, somewhere between $100 and $150.
Here is a list of some important high quality features you might want to look for.
Metal Interior Parts
Metal or Polymer Frame
Not under $20
Licensed By a Reputable Company
10 Best Airsoft Pistols In 2021
We have talked about the types of airsoft pistols as well as the price points, functionalities and qualities you should look out for. Now it's time to jump right into what you've been waiting for. Here are is our list of the 10 best airsoft pistols of 2021
BBTAC p169 Airsoft Pistol
First in our list is the Spring BBTac P169 Pistol Airsoft Gun! This Airsoft gun is a good gun for a beginner player just getting their start in the world of Airsoft. With a lightweight plastic construction and full scaled body, this gun looks and feel solid. At 260 FPS and a 12 round magazine this spring pistol is an ok secondary weapon.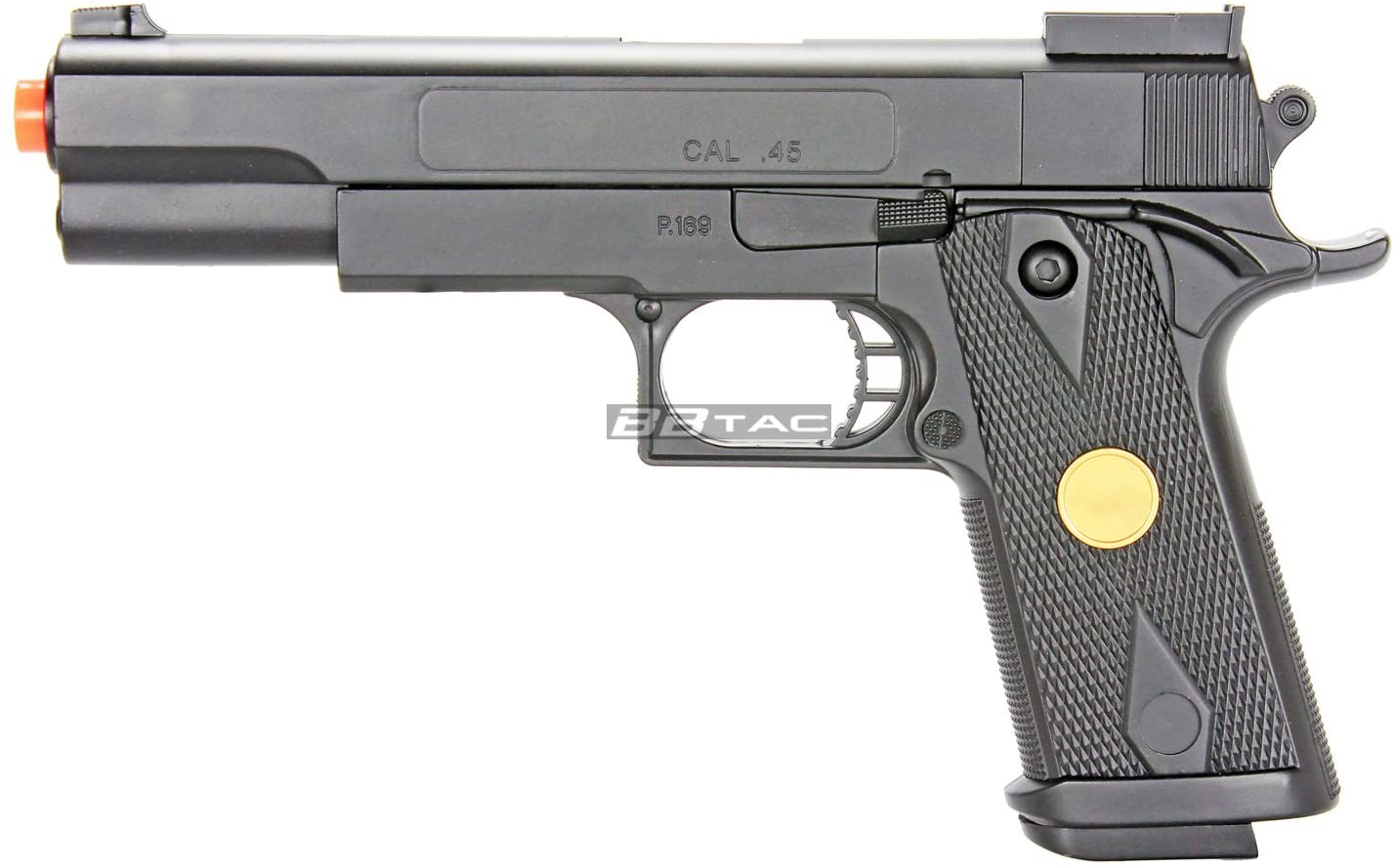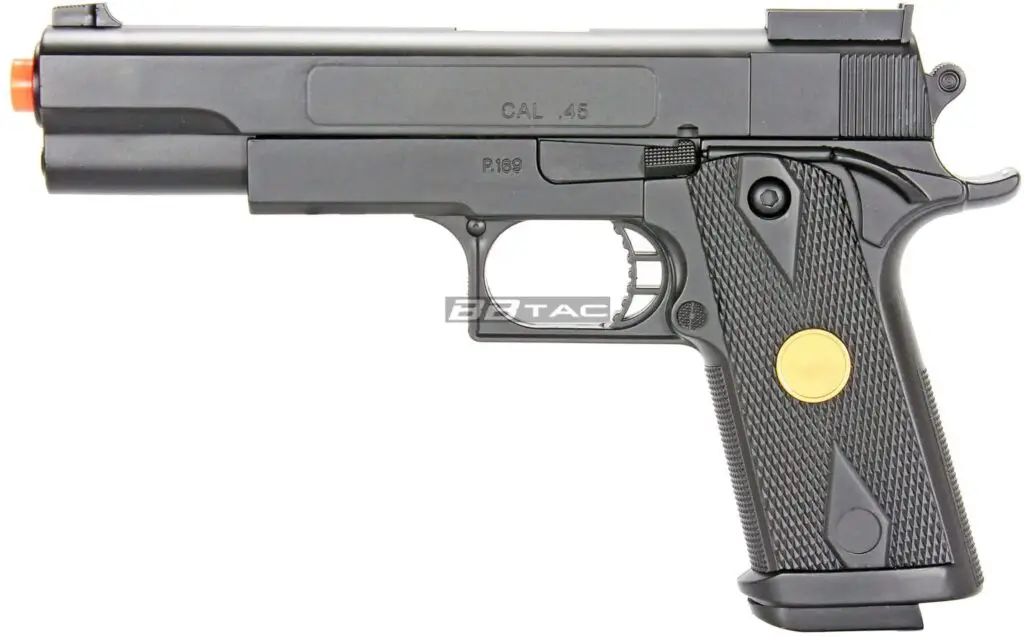 Did You Know? This gun may be in the #10 spot, but it's surprisingly powerful
Key Features of The Product
Pros
260 FPS

1:1 Scale of a 1911

No batteries or gas required
Cons
Single action cock & Shoot

Low ratings on amazon.
Walther Special Operations PPQ Spring Pistol Kit
The feature-packed Walther Special Operations PPQ Spring Airsoft Kit is ready for shooting whenever you are. Each kit contains a spring airsoft replica of the famous Walther PPQ complete with an extra magazine, 400 BBs and a built-in Hop-Up BB system to keep you on target at up to 300 feet per second. Two drop-out, 15-round magazines are included, with each featuring an additional 85-round reservoir for all day shooting.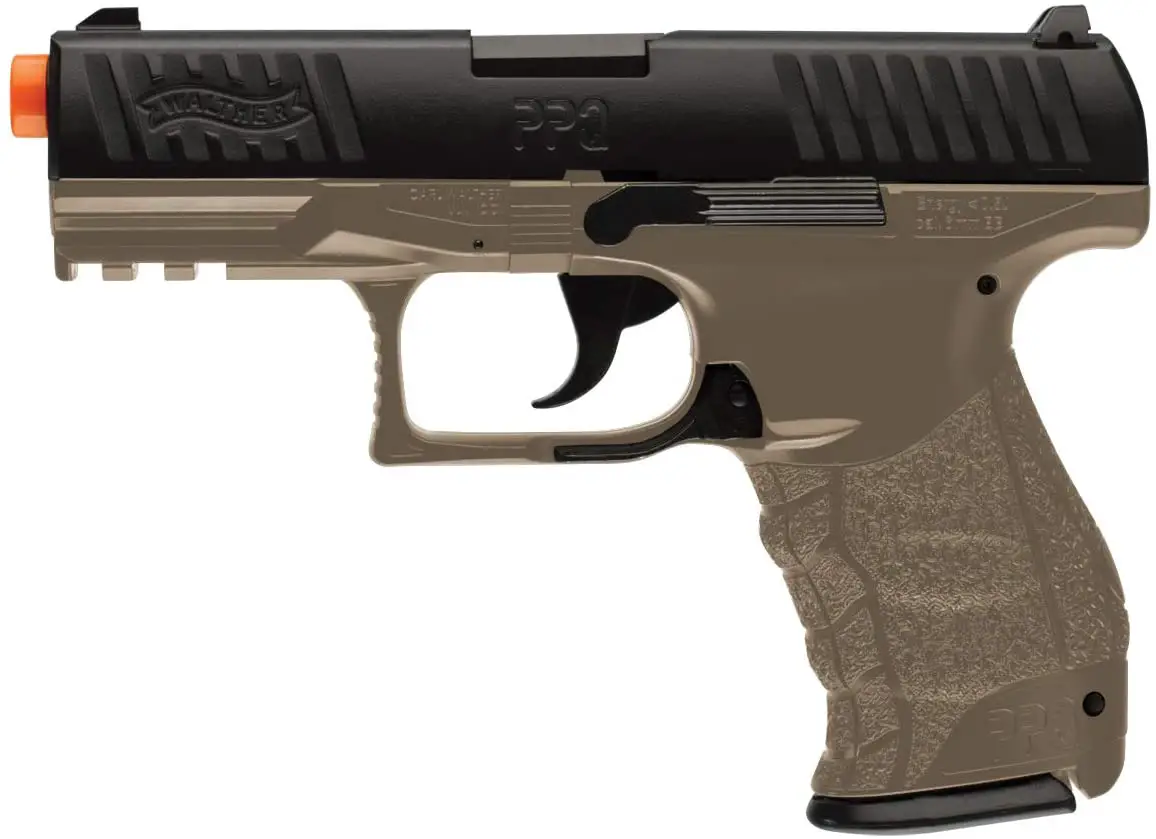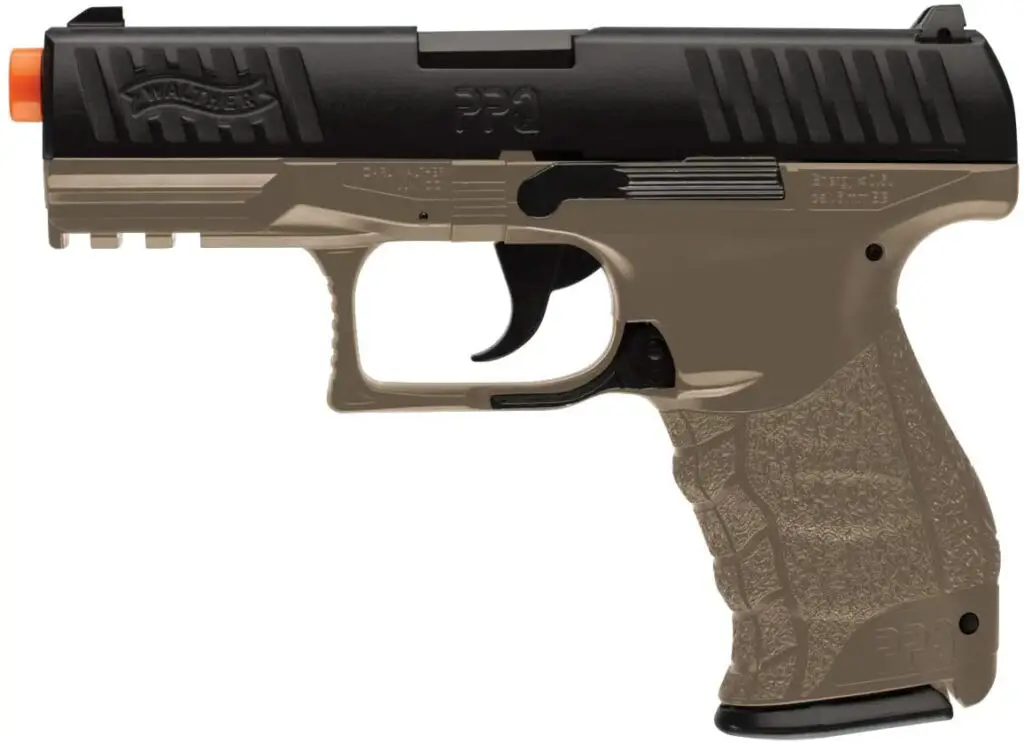 Did You Know: This gun is an exact replica of a Walther pistol
Key Features of The Product
Pros
Very affordable

Shoots 300 FPS

Includes A Bunch Of Additional Items

Has A Hop-Up System
Cons
Cheaply Made

Only 4.2 out of 5 Stars
The Colt special combat 1911 airsoft pistol is an officially licensed Colt trademarks. The strong heavyweight plastic adds durability and offers a realistic feel. The lower rail allows for laser or flashlight attachments. A two-stage safety operates just like the Real steal firearm. It also comes with an adjustable Hop-Up,  allowing the user to make precise changes to get the most accuracy out of the Colt 1911 pistol. This is a great pistol for use in game play, plinking, and offers a more affordable option for training to maintain and improve your Real firearm proficiency.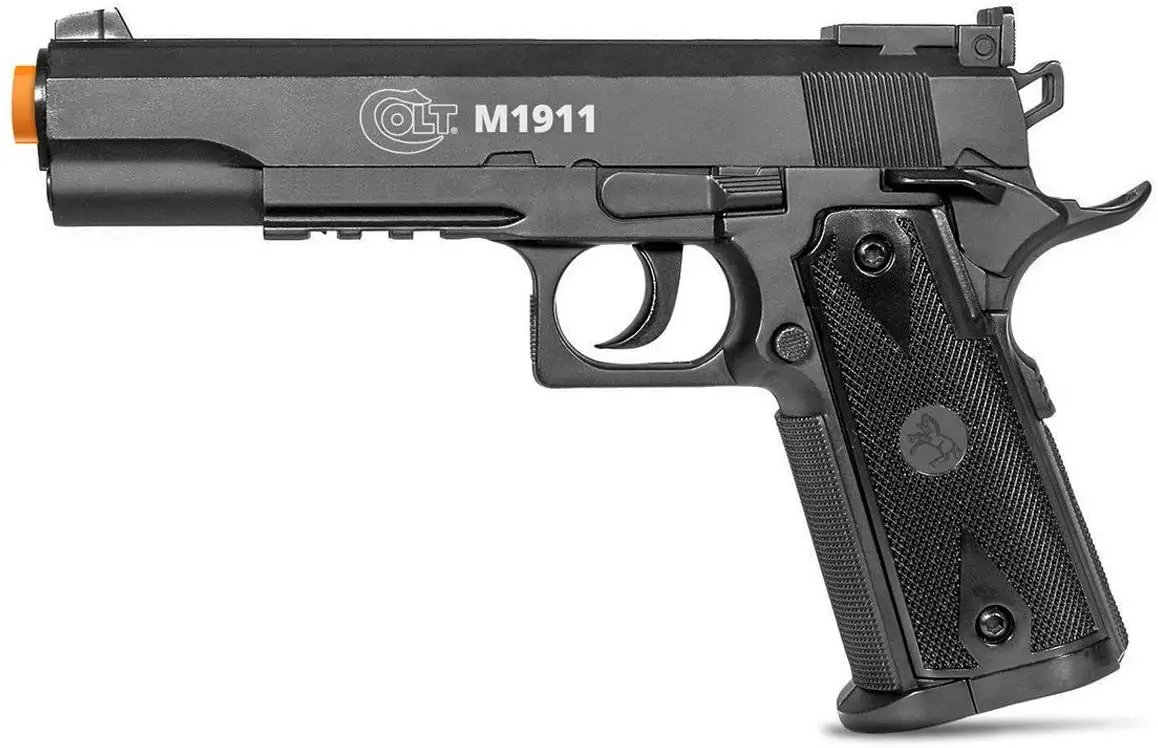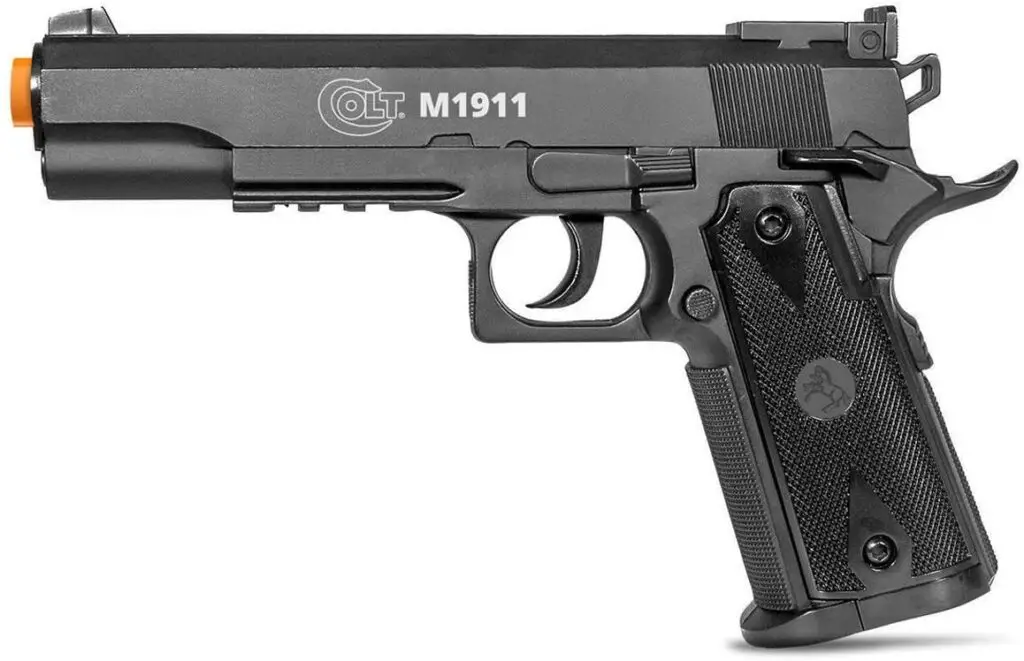 Did You Know? You Colt Special Combat 1911 airsoft gun has a rail which allows for a bunch of accessories.
Key Features of The Product
Pros
Shoots Up to 450 FPS

Mag holds 12 round

Hop-Op system included

C02 Powered
Cons
non metal construction

450 FPS Claim is a stretch at best
GameFace GFAP13 AEG Pistol
The GameFace GFAP13 AEg airsoft pistol is an electronic powered full or semi pistol that can shoot up to 250 FPS. It also includes a 30 round magazine, making often reloading a thing of the past. This pistol has a metal gearbox and barrel, and only weighs 1.4 pounds.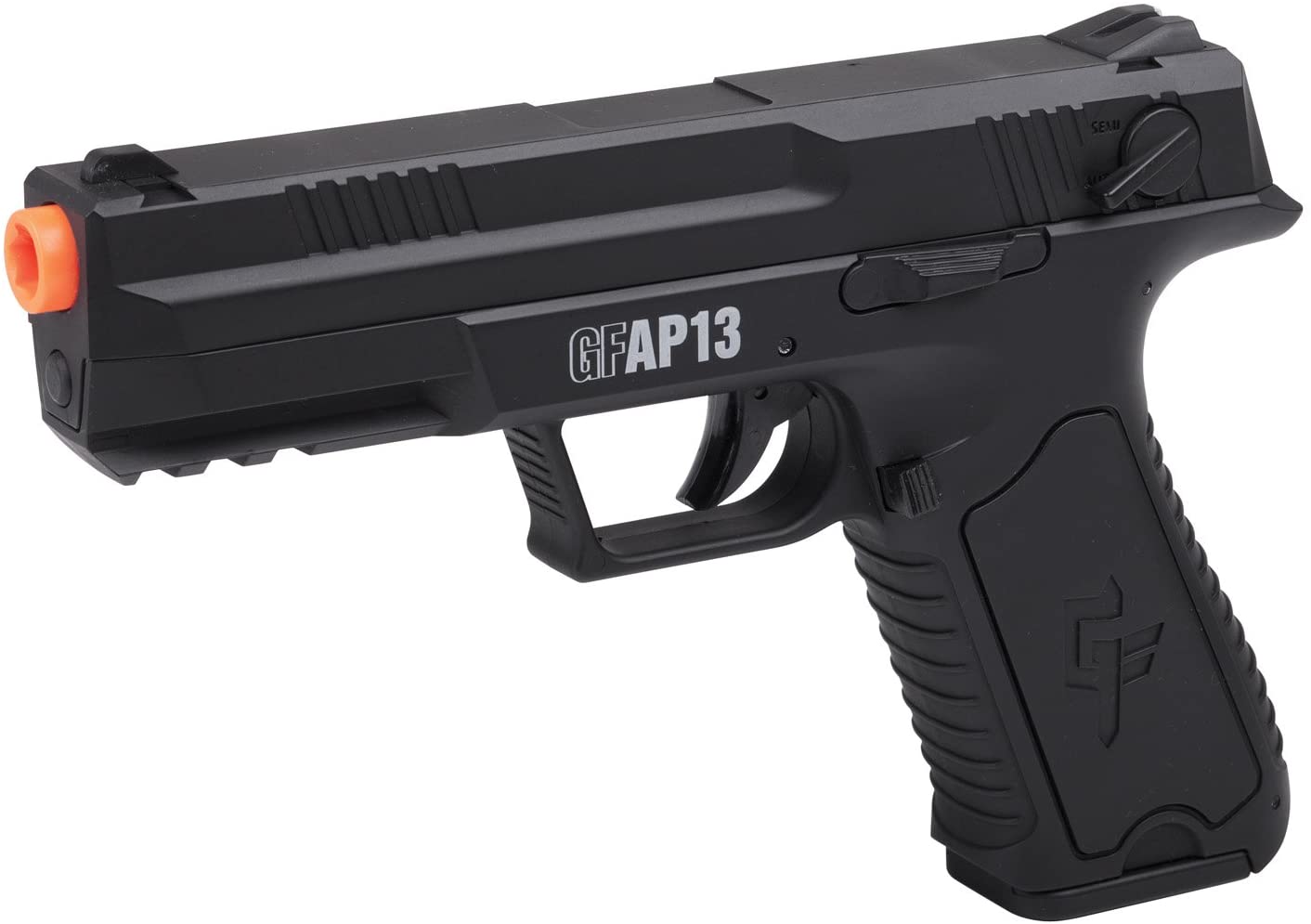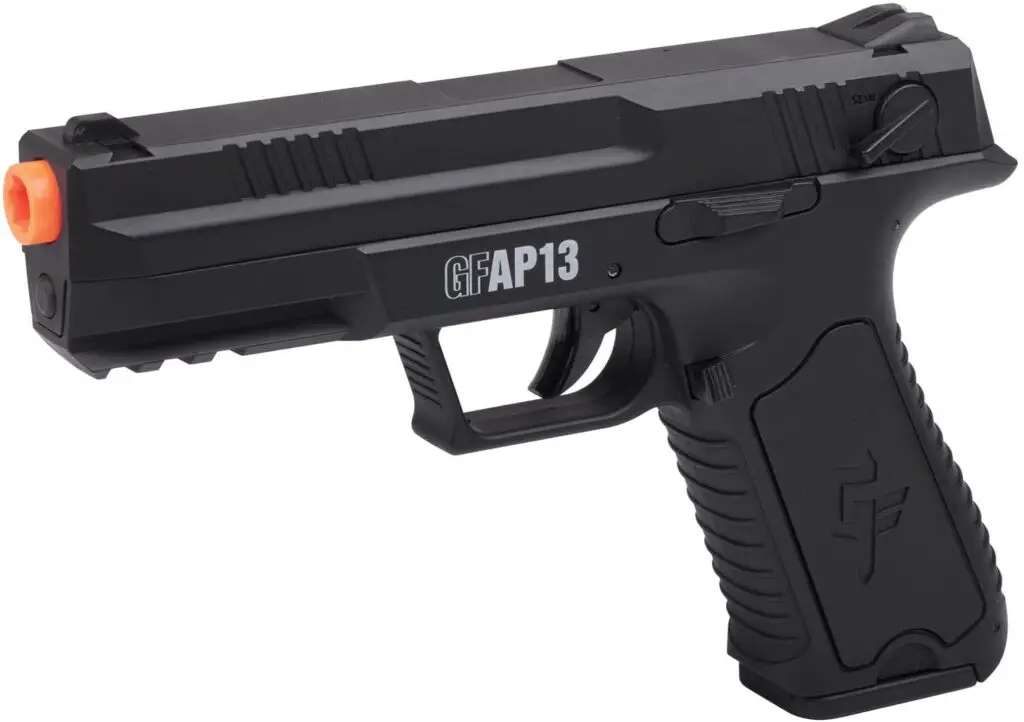 Did You Know? The GameFace GAFP13can shoot in both semi and full auto!?
Key Features of The Product
Pros
250 FPS

30 Round magazine

Metal Gearbox & Barrel

Rechargable battery
Cons
Only Comes In Black

Gears Are Plastic
Umarex Walther PPS M2 Blowback Pistol
The Walther PPS M2 Airsoft Pistol is slim, compact, and easy to carry, the Walther PPS M2 has the grip, the style, and the function needed to satisfy a discerning population of shooters. This airsoft replica delivers all the same grip, feel, and blowback function to make both a great training aid as well as a great back up airsoft pistol for competition. This 6mm airsoft version will fit in most holsters designed for the PPS M2 live-fire counterpart.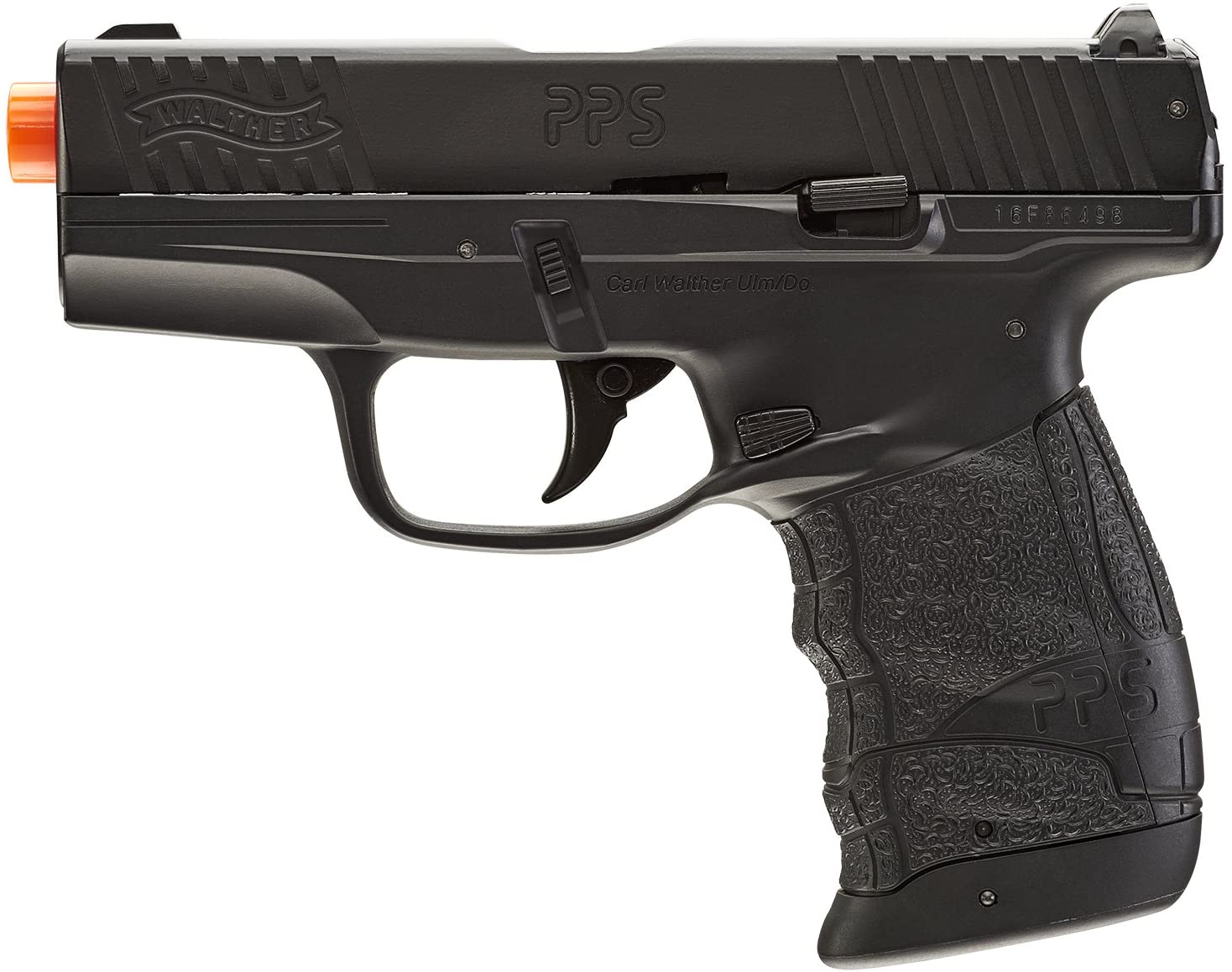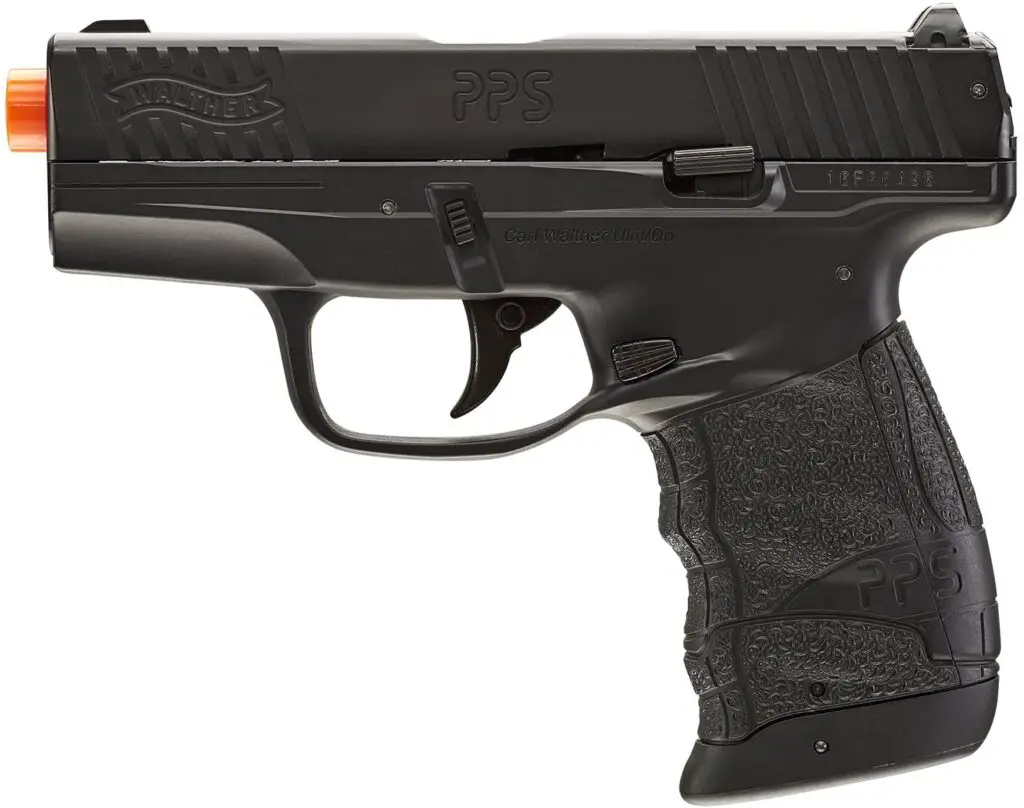 Did You Know? The Walther PPS has the C)2 stored in the grip. Making it feel hefty and realistic
Key Features of The Product
Pros
300 FPS

Very easy to carry

Realistic blowback action

Fits most holsters designed for the real PPS M2
Cons
Not a full sized airsoft pistol

Only comes in Black
Umarex Beretta M92 A1 Blowback Airsoft Pistol
With the Umarex Beretta M92 A1 you can take precision shots with the fixed barrel, and when you feel like you just want to unload a rain of steel, swap to full auto and let loose with the 18 round magazine. With the easy drop free magazines, reloading is a breeze and the CO2 is conveniently located in the magazine as well. The pistol also features metal fixed front and rear sights, a strong blow back action, and full metal construction.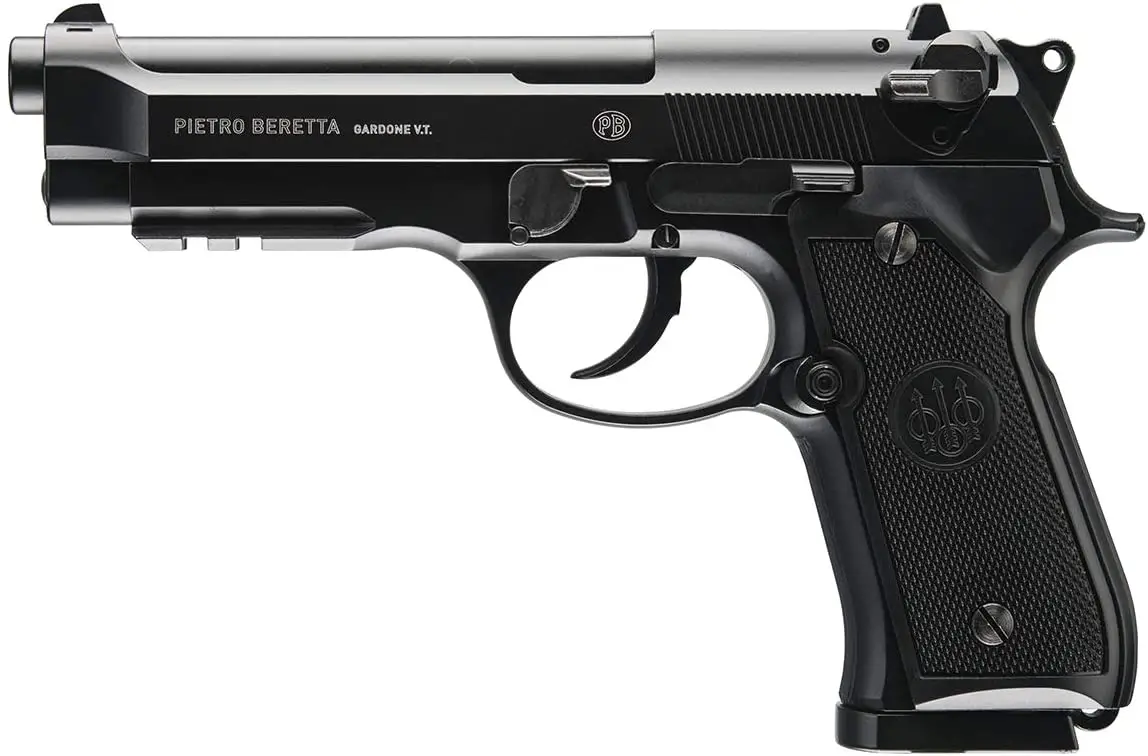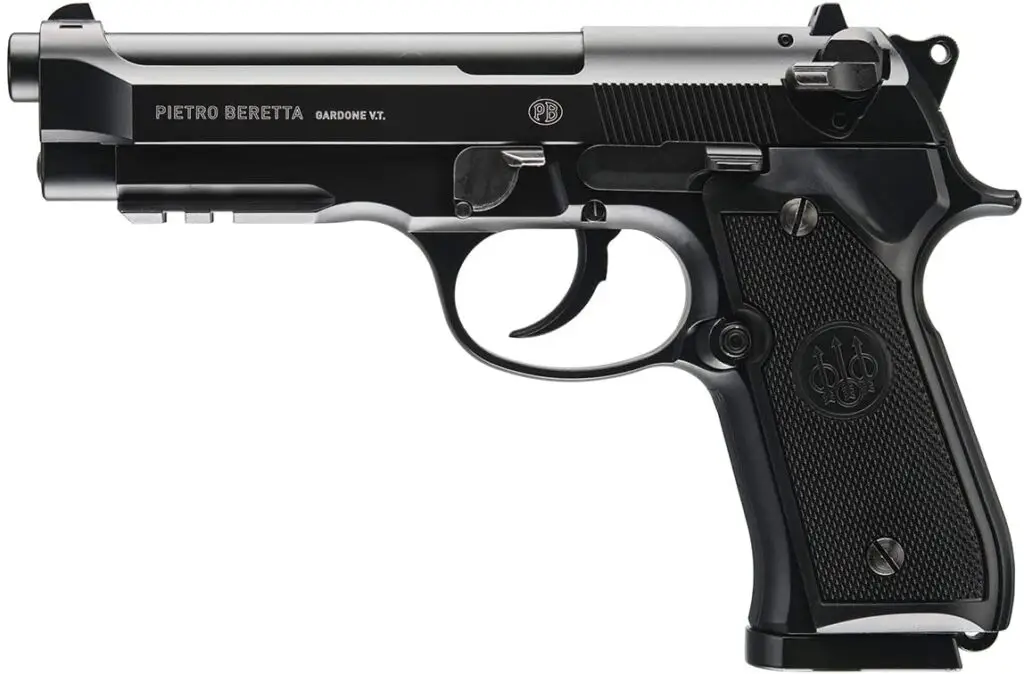 Did You Know? This airsoft pistol is part of a Beretta Trademarks Licensed by Beretta?
Key Features of The Product
Pros
300 FPS

Blowback Action

Full Metal Construction

Made with High Quality Materials

Beretta Trademarks Licensed by Beretta – Italy
Cons
This is my awesome feature.

My product feature is beautiful.

My product feature is beautiful.

It will serve you whatever you want.

My product is developed based on market niche.
Sig Sauer Airsoft Proforce M17
 In January 2017, the SIG SAUER P320-based M17 was the United States Military's Modular Handgun System contract. Now you can own and train with a piece of history, as SIG SAUER introduces the SIG AIR ProForce M17 airsoft pistol with the same unparalleled look and feel as the U.S. military's M17. The M17 airsoft pistol comes in the same coyote tan as selected by the U.S. military.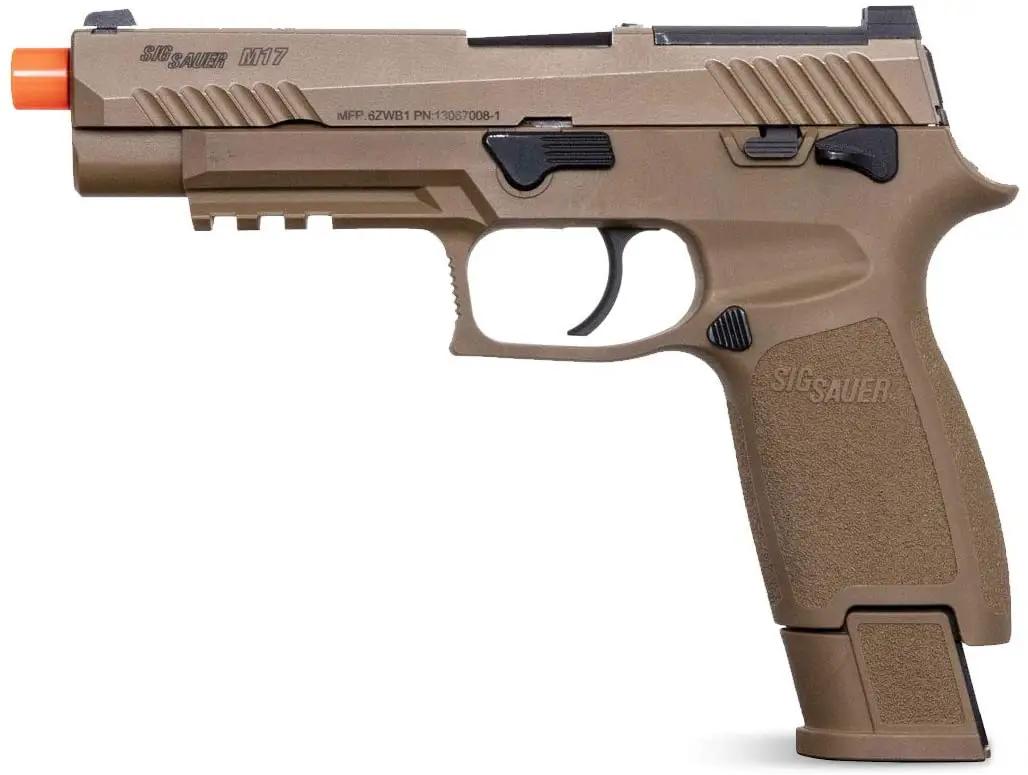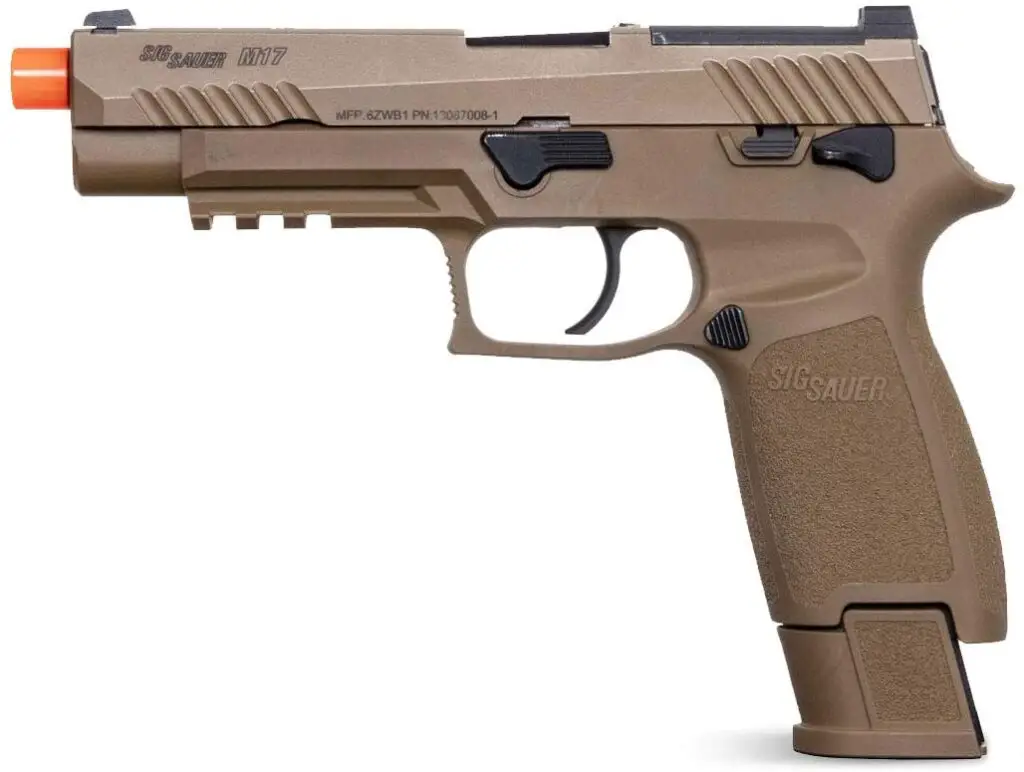 Did You Know? Many people in the military who play airsoft prefer using this gun as a sidearm.  
Key Features of The Product
Pros
Shoots up to 410 fps

Blowback Action

Metal Slide Construction

Very Well Made & Reliable

Replica of The M17
Cons
A Little Pricey

Frame Is Plastic
ASG CZ P-09 Co2 Blowback Airsoft Pistol
The CZ P-09 Gas Blowback Pistol from ASG is the competitors choice for fast, accurate action during all battle conditions. This premium grade airsoft pistol combines high-performance with amazing value, and is perfect for those looking for a powerful and reliable sidearm. The CZ P-09 is constructed with a full metal slide, frame, and barrel assembly with a durable polymer grip. This pistol features a bottom RIS keymod rail under the barrel for the attachment of your choice of tactical flashlights or lasers.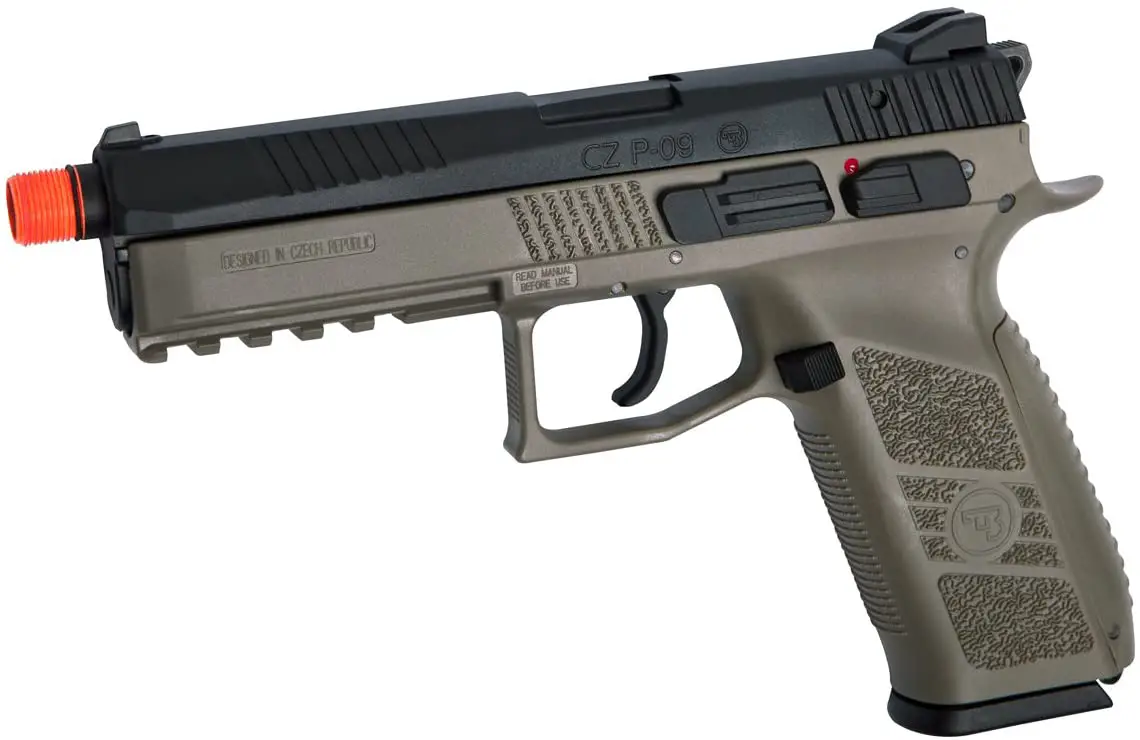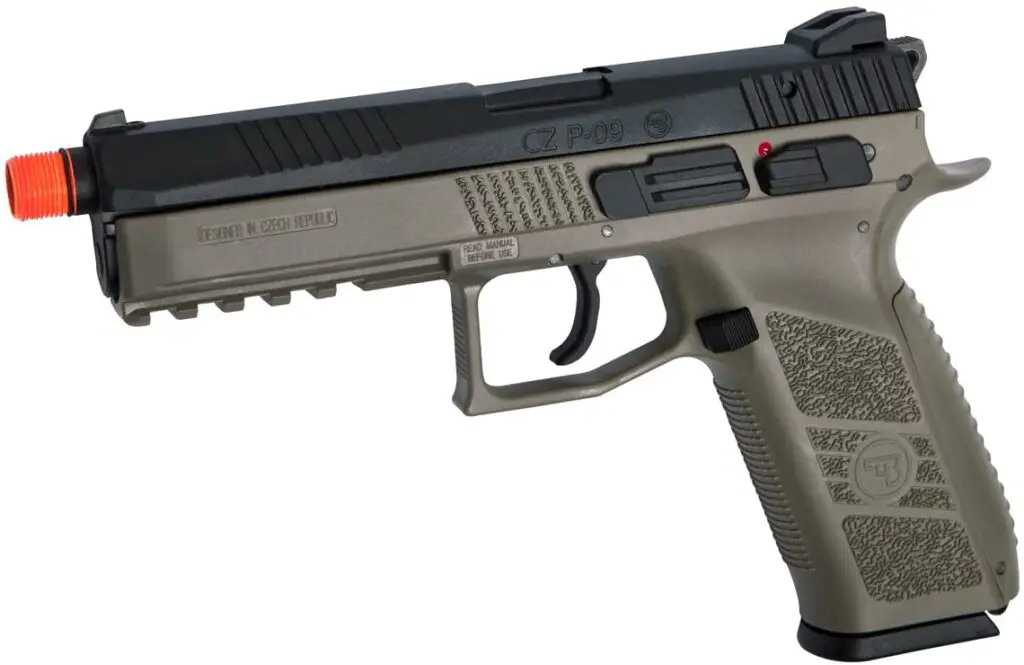 Did You Know? A single 12g Co2 cartridge powers this airsoft replica, and is housed within the 26 round magazine?
Key Features of The Product
Pros
High FPS

Adjustable Hop-up

Full metal Construction

Blacback Action

Great Value Buy
Cons
Not Many Purchases or Reviews

Only Available In Urban Gey
Umarex Glock 19X Airsoft Pistol
The GLOCK G19X GBB 6mm Airsoft Pistol by Umarex/Elite Force is another great addition to the Glock airsoft lineup. With Blowback Action, adjustable hop up, and a velocity of 300 FPS, this is a perfect item for new or veteran airsofters. Powered by green-gas, this GLOCK airsoft pistol features a lightweight and rugged, injection molded polymer frame with a durable, aluminum alloy slide and has a 23 round magazine.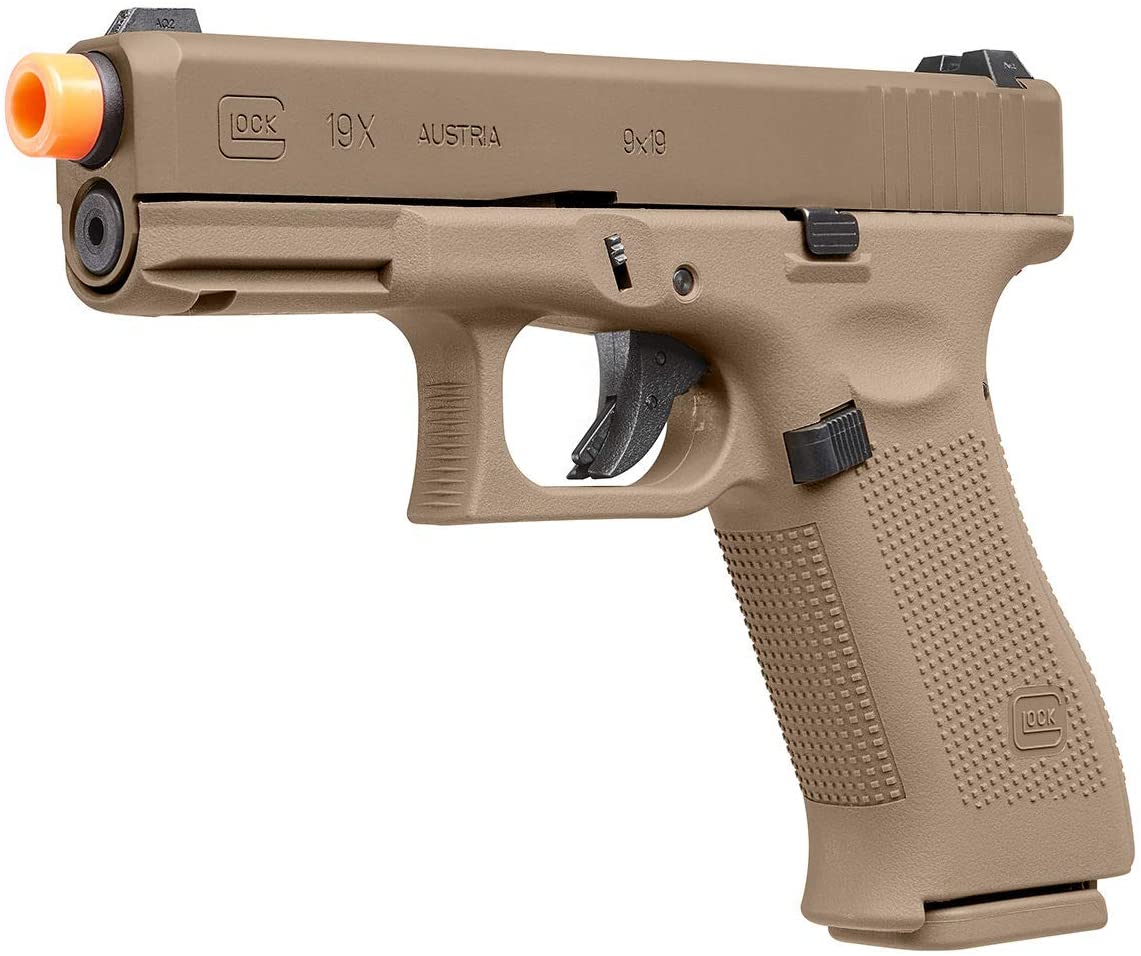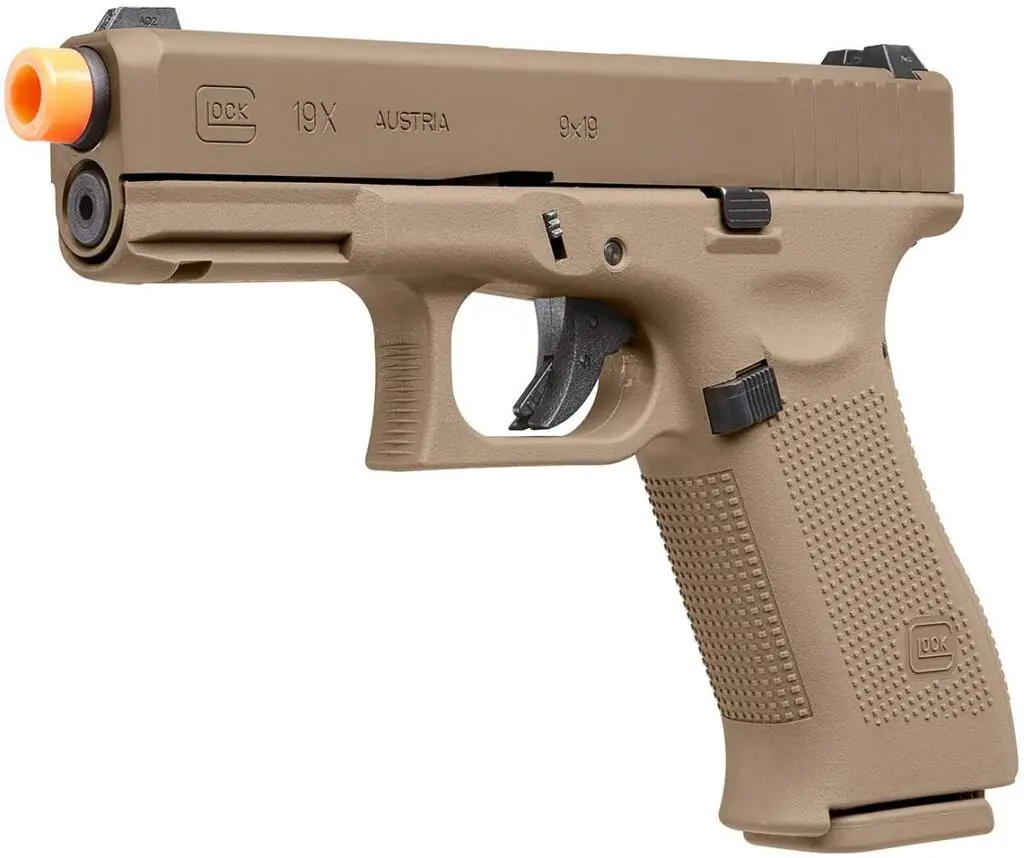 Did You Know? The GLOCK G19X GBB 6mm Airsoft Pistol is built with all the features GLOCK shooters are familiar with, making this a perfect training pistol.
Key Features of The Product
Pros
Shoots up to 300 FPS

Realistic Blowback Action

Powered by Green Gas

Lightweight and Rugged

Fully Licensed by Glock
Cons
Plastic Frame But Is Dourable
Tokyo Marui Hi-Capa 5.1 Gold Match Custom Airsoft Pistol
#1 in our list of the 10 best airsoft pistols 2021 is the  Hi-Capa 5.1 Gold Match Custom Gas Blowback Pistol from Tokyo Marui. This pistol is a refreshing change of pace when it comes to airsoft sidearms. Designed after the econic 1911, the Hi-Capa 5.1 Custom GBB pistol is a compact sidearm that is perfect for operating in CQB situations. Constructed fully from an injection molded reinforced polymer slide and frame, this 1911 replica is realistically weighted and can easily withstand the hardships of airsoft warfare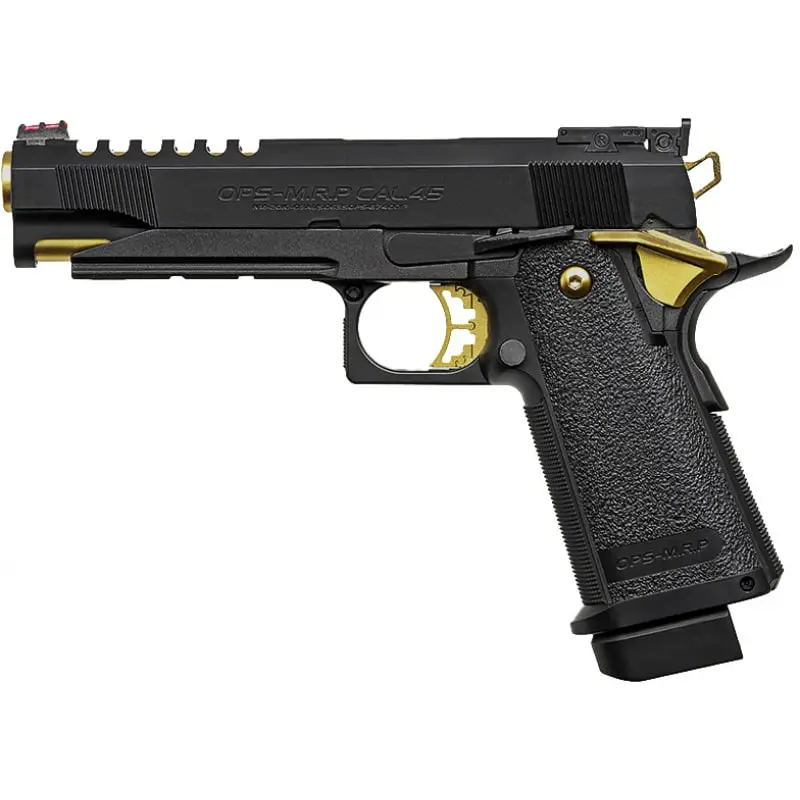 Did You Know? A small 20mm picatinny rail beneath the barrel can house a wide range of tactical accessories including lasers or flashlights, based on player preferences
Key Features of The Product
Pros
Shoots Up to 240 FPS with 0.20g BB

Blowback Action

31rd Magazine

Adjustable Sights

Adjustable Hop-up

Semi & Full Auto

Very Durable and Reliable
Is An Airsoft Pistol Better Than A Rifle?
It all depends on what play style you prefer. An airsoft AEG rifle is going to far outperform any airsoft pistol due to the long barrel and better internal components. However, in a sniping situation, having an airsoft pistol is almost a necessity and is greatly preferred over an AEG due to it's small size 
Are Airsoft Pistols Accurate?
In general airsoft pistols are not as accurate as airsoft rifles but they don't do a terrible job. Most are pretty accurate within 50 feet. Also, If your pistol has a hopup system, you will see improved accuracy
Are Airsoft Pistols Loud?
Airsoft pistols are not loud, nor are they much louder compared to other airsoft guns. Typically an airsoft pistol will be nothing above 90-95 decibels. making them not very loud and no hearing protection is required. 
10 Best Airsoft Pistols 2021 Review Final Thoughts
As you might have been able to tell, some of these airsoft pistols seem very similar. But when you take into account quality, customer reviews, and price, you begin to see the differences.
Some people thing the higher the FPS the better the gun, however, this is not always the case. Our #1 pistol only has an FPS of 240, while others are shooting over 300 FPS. So why is this?
Some guns may hit harder, but the overall quality and functionality is the most important factor. The higher the price, the better the quality, thus the better reviews it 'll get from customers…making it a better airsoft pistol overall.
I hope that sheds some light and helps you on your next airsoft pistol purchase. So what did you think of our 10 best airsoft pistols 2021 review? Is there an airsoft pistol on our list that you personally own? If so, let is know in the comments below and as always feel free to checkout our latest article here